---
UK Enters Worst Period Of Strikes Since Thatcher As Gov't Calls For Price Controls
The UK is headed for the second summer of strikes as the seemingly intractable cost-of-living crisis devastates household finances. British officials are so desperate to alleviate despair among Brits that they are considering drastic measures, such as implementing food price controls. 
Brits received the grim news on Tuesday as food prices remain at or near record levels. The British Retail Consortium (BRC) said annual food inflation eased from 15.7% to 15.4% this month. However, the cost of store items, known as shop price inflation, increased to 9%, a new high for the index that dates back to 2005.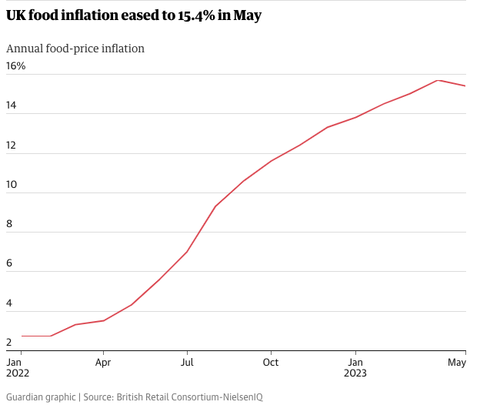 The Guardian reported the government is mulling over price caps for food, such as bread and milk, to alleviate household pain. 
In a note, Laura Suter, head of personal finance at stockbroker AJ Bell, told clients that Brits "are still wincing when their total comes up at the checkout… a weekly shop that cost £100 last year is now clocking in at £115." 
High inflation has led to households experiencing the sharpest fall in living standards since records began. This despair has led to widespread strikes as workers demand higher wages. 
Bloomberg warned, "Britain is heading into a second consecutive summer of train strikes this week as union bosses and ministers remain at loggerheads over pay and working conditions." 
A stunning chart by Bloomberg shows the economy has already lost 3.5 million days to strikes since last year, currently at levels not seen since the days of British Prime Minister Margaret Thatcher in the late 1980s into the early 90s.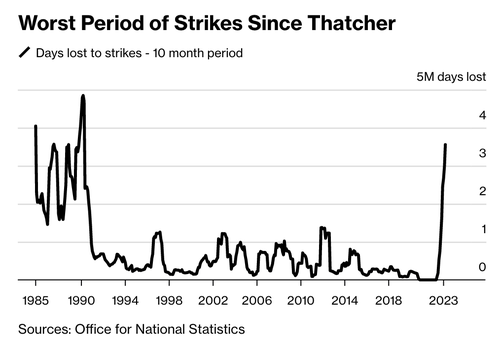 The next wave of strikes is expected to impact rail networks on Friday. 
Loading...