---
UK Planes Are Still Running On Russian Jet Fuel, According To New British Ad Campaign
London-based green activist group Global Witness launched a citywide billboard campaign urging Britain to close the loophole that allows up to 5 percent of UK flights to still run on Russian fuel.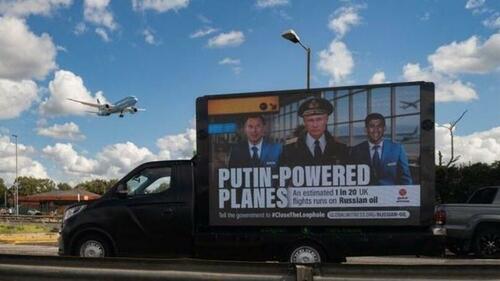 On the posters, Russian President Vladimir Putin is pictured as a British commercial airline captain at an airport, flanked by two flight attendants represented as British Prime Minister Rishi Sunak and Chancellor of the Exchequer Jeremy Hunt.
The poster draws attention to the fact that an estimated one in 20 British planes is powered by Russian oil, meaning that the British government continues to support Russia's most important export despite sanctions.
The U.K. government imposed an embargo on Russian oil imports in March 2022, following the outbreak of war in Ukraine, and the legislation came into force at the end of the year. However, companies are free to import fuel produced from Russian oil, provided it has not been refined in Russia.
This legal loophole has encouraged oil refiners in other countries, such as India and Turkey, to import even more Russian oil — and in the process, of course, they have increased their exports to Western countries, including the U.K.
Data analyzed by the international NGO Global Witness shows that the U.K. imports significant quantities of jet fuel from three Indian refineries.
Around 40 percent of the fuel for these refineries comes from Russia, which is blended with fuel from other sources and then refined into petroleum products, including jet fuel.
The billboards are part of a campaign by Global Witness to send a message to the British government that their trade is helping to fund the Russian war in Ukraine.
Loading...