---
UK Universities Face Investigations Over Grade Inflation: Watchdog
Authored by Alexander Zhang via The Epoch Times,
Universities and colleges could face investigations over grade inflation, the head of England's higher education watchdog has warned.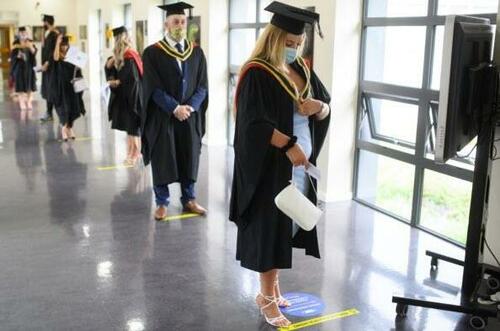 Lord Wharton, chairman of the Office for Students (OfS), said on Tuesday that the regulator is considering taking action over the "significant" grade inflation, which he said could devalue the degrees.
A report, released by the OfS in May last year, suggests that the proportion of first-class degrees handed out in England has more than doubled in the last decade—from 15.7 percent in 2010–2011 to 37.9 percent in 2020–2021.
Highlighting the figures, Lord Wharton told the Industry and Regulators Committee in the House of Lords: "This is a significant amount of grade inflation and more and more people are getting firsts.
"There may be very good reasons for that. We may have cohorts of much brighter students but there is also a risk that if everyone gets a first, no one gets a first. It could be seen to devalue the award in itself.

"Students quite like getting firsts, so in the short term individual students who are studying now might quite like their chances being enhanced. But it may well not be in their interest in the long term if it undermines the value of the thing they have earned and worked so hard for."
The Conservative peer acknowledged that the OfS has "not taken sufficient action over a very long period of time," but said the regulator is now looking at what actions can be taken to address the issue, including investigations.
Universities could be required to retain an "appropriate selection" of graded work from students as evidence for investigators to consider, he added.
The COVID Effect
There has been a rise in degree grade inflation during the COVID-19 pandemic following the introduction of measures to mitigate the impact of lockdown disruptions on students' studies.
Universities in 2019–2020—the first year of the pandemic—adopted "no detriment" or safety net assessment policies, which tended to ensure students would not receive a final grade that was lower than the university's most recent assessment of their work.
While "blanket 'no detriment'" policies were not in place in 2020–2021, other assessment changes such as open-book exams remained.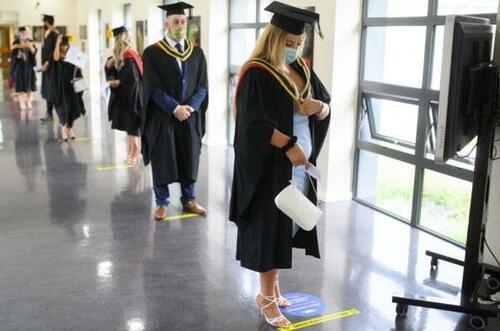 Graduates queue on campus at the University of Bolton as they wait to receive their degree certificates in Bolton, northwest England, on July 9, 2021. (Oli Scarff/AFP via Getty Images)
In July 2022, Universities UK (UUK) and GuildHE—which represent 197 UK universities—pledged to return the proportion of top degrees to pre-pandemic levels.
The two leading industry bodies said they recognised that grade inflation, which could not be explained by improvements in teaching and learning or more effort from students, risked undermining employers' confidence in the degree grading process.
Universities said they will use 2019 as a benchmark for the proportion of upper second and first-class degrees awarded.
The UUK and GuildHE said in a joint statement: "In recent years, universities have been proactive and taken collective action to strengthen internal processes that impact on degree classification. The result was a levelling off by 2018–19 in the percentage of students achieving upper degree awards."
"However, we cannot lose sight of the need to maintain the value of a degree and so must redouble our efforts to identify and address unexplained increases in firsts and 2.1s," they added.

"As a sector, we commit to reviewing our classification levels against the pre-pandemic progress that had seen trends stabilising."
Michelle Donelan, then higher and further education minister, welcomed the promise, saying, "Hardworking students deserve to know that earning a first or upper second really counts and that it carries weight with employers—who in turn should be able to trust in the high value and rigorous assessment of university courses."
Regulator Calls for 'Credible' Grades
In September 2022, the OfS said it had launched an investigation into grade inflation after a "sharp increase" in the awarding of first and upper-second-class degrees at several universities.
It said the rates of students with top degrees at three universities and colleges, which were not named, raised "potential concerns that require further scrutiny."
The regulator requires institutions to award qualifications that are "credible" compared with previous years, and based on "the knowledge and skills of students."
Grade inflation, the practice of rewarding the same level of student achievement with increasingly higher degree classifications, is explicitly banned.
If the universities or colleges are found to have broken OfS rules, they could be fined up to £500,000 or 2 percent of their income.
In January, the Higher Education Statistics Agency (HESA) recorded a fall in the number of first-class degrees awarded for the first time since records began in 1993.
Nearly a third (32 percent) of undergraduate degrees were awarded a first-class honours classification in 2021–2022, a fall from 36 percent the year before, the agency said.
However, 46 percent of students were awarded upper second-class degrees in 2021–2022, the same proportion as in 2020–2021.
Loading...