---
UK's Biggest Teachers Union Urges Scrapping Of Girls & Boys Uniforms And Sports Lessons In Trans-Inclusion Push
Authored by Patricia Devlin via The Epoch Times,
Britain's biggest teaching union has advised schools to stop segregated sports and use gender-neutral uniforms to become more "trans inclusive."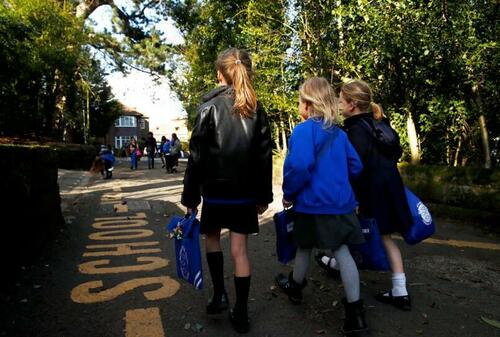 The Epoch Times has learned that controversial new guidelines from the National Education Union (NEU) also tell teachers to put an end to "boy-girl" classroom seating as it could "distress" trans or non-binary students.
The official guidance—agreed by NEU's executive committee—has been slammed by campaigners who say it will create a "hostile and untenable environment" for pupils, parents, and teachers "who do not agree with transgender ideology."
Among the newly published advice, the union has included its own definitions of "transphobia" and "trans."
It states that "transphobic behaviour" can be anything a complainant "reasonably perceives" to create "an intimidating, hostile, degrading, humiliating or offensive environment for them."
The NEU's definition of "trans"—which "goes further" than the Equality Act 2010—says "trans people need not have had any medical transition to be considered trans."
The union's new rules have raised concerns among some of its 500,000 members that those holding gender-critical views could be left open to unfair disciplinary action, or even being kicked out of the union.
One concerned member who contacted The Epoch Times called the guidance a "dangerous mess" that not only provides "little reassurance" to gender critical voices, but also "threatens free speech."
'Transphobic Behaviour'
The new NEU guidelines come months after the government pledged to produce official guidance for schools on transgender issues.
Earlier this year, Prime Minister Rishi Sunak said a document giving a government steer on dealing with trans-identifying children would be signed off by the summer term.
Mr. Sunak's announcement came after teaching unions complained members were navigating a "minefield" over the issues.
In March, a conservative think tank report said safeguarding principles are being routinely disregarded owing to the spread of "extreme gender ideology" in schools.
London-based Policy Exchange said that most secondary schools are failing to tell parents if their child wants to identify as another gender.
NEU—whose members staged a mass walkout from schools in England on Wednesday over pay—has now cited examples of "transphobic behaviour" which could lead to members being disciplined.
They include "intrusive questioning" and "failing to listen respectfully to trans voices including those of trans children about their choices and identity."
Referencing members who hold gender-critical views in its newly published guidance, the union states: "Nothing in this definition is intended to contravene the protections given to all protected groups under the Equality Act 2010.
"The NEU rejects all discrimination and recognizes that holding and expressing gender critical views is protected by law under the Equality Act and the European Convention on Human Rights, Articles 9 and 10.
"This means holders of these views can express them freely, as long as they do so in a respectful manner, avoiding creating an environment which is hostile or discriminatory to trans people."
Self Censorship
One teacher, who asked not to be named for fear of losing his union membership, said the NEU policies will put gender-critical members "in danger of expressing any gender-critical view in any situation."
"This means that gender-critical members may be refused union representation if the school management or any offended self-defined trans person or trans ally perceives that their comments are transphobic and it results in the use of the school disciplinary procedure," the teacher told The Epoch Times.
"It also means that the same person could be expelled from the union if the union's complaints procedure is used against them and they are deemed to have broken the code of conduct."
The NEU member said this means there is an "ever-present threat hanging over any gender critical member," which will "almost certainly" lead to self-censorship.
Questioning the union's definition of "trans," the concerned teacher said: "This means anyone at any time in any school context could be trans and could perceive hostility, intimidation, degradation, or humiliation.
"What a dangerous mess."
He said that NEU guidance about how to support trans children also puts teachers in "an even more precarious position."
It tells members that "students who want to use a new name, wear new clothes or ask for a new pronoun to be used are protected under the law, regardless of whether they have, or want to have, any medical treatment."
The document goes on to say that: "To be protected from gender reassignment discrimination, you do not need to have undergone any specific treatment or surgery.
"This is because changing your physiological or other gender attributes can be an entirely personal process rather than a medical one.
"You can be at any stage or part of a stage in the transition process—from proposing to reassign your gender to undergoing a process to reassign your gender or having completed it."
The teacher said: "This all begs the question about what are teachers to do if the parents don't know the children are gender questioning and in the process of transitioning? The NEU guidance doesn't seem to help once again."
He added: "This is all highly questionable and looks like it won't stand up to legal scrutiny, which means it should not be offered as guidance to its members.
"The sooner that the document is scrutinised by the government lawyers the better."
Failing Schoolgirls
The Epoch Times approached the NEU with its members' concerns, but the union did not respond.
Reacting to its guidance, Chief Executive of Christian Concern Andrea Williams—whose clients include teachers disciplined and dismissed over gender-critical views—said the union's advice will fail pupils.
She told the Epoch Times: "The statement and guidance from Britain's largest teaching union will create a hostile and untenable environment for any pupil, parent, or teacher that does not agree with transgender ideology.
"Expert evidence from scientists has revealed that such trans-affirming guidance has catastrophic outcomes for vulnerable and gender-distressed children.
"The statement shows that the NEU has been completely captured by transgender ideology and is pushing guidance that will cause many children short, long-term, and often irreversible harm."
Ms. Williams referred to the recent Policy Exchange report which said a generation of children are being let down because well-established safeguarding standards are being compromised.
She added, "This guidance from the NEU encapsulates that dire warning."
"Organisations that care about the safeguarding of our children will not support the social transition of school children.

"Teachers and fellow pupils should always refer to pupils according to their legal gender. Anything else is lying and harmful for children."
Ms. Williams also said that the idea sports should not be segregated in schools "will only serve to disadvantage girls" and show "they are not protected or respected."
"The last thing girls want is boys invading their private spaces and ruining their chances of winning any sports competitions," Ms. Williams said.
"Clearly the NEU does not care about the welfare of girls in schools."
Loading...