---
Under Pressure From Fat Activists, NYC Bans Weight Discrimination
Discriminating against fat people is now illegal in New York City, after Mayor Eric Adams on Friday signed off on a ban that will affect not only employment, but also housing and access to public accommodations -- a term that encompasses most businesses. 
We're in safe company using the word "fat," as champions of the cause refer to themselves as "fat activists." With the mayor's signature, two more categories -- both weight and height -- are added to New York City's list of protected personal attributes, which already included race, gender, age, religion and sexual orientation.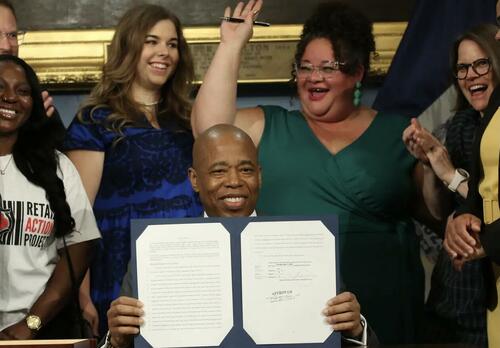 Embracing one of 2023's innumerable strains of Orwellian brainwashing, Adams declared, "Science has shown that body type is not a connection to if you're healthy or unhealthy. I think that's a misnomer that we're really dispelling."
Even the Centers for Disease Control and Prevention say obesity is an invitation to a host of maladies, including to high blood pressure Type 2 diabetes, coronary heart disease, stroke, gall bladder disease, many types of cancer, mental illness and difficulty with physical functioning. 
"Size discrimination is a social justice issue and a public health threat," said Councilmember Shaun Abreu, who introduced the measure. "People with different body types are denied access to job opportunities and equal wages — and they have had no legal recourse to contest it," said Abreu. "Worse yet, millions are taught to hate their bodies." 
A full 69% of American adults are overweight or obese, but our woke overlords would have us believe the real "public health threat" is a nice restaurant that doesn't want Two-Ton Tessie working the reception desk, or a landlord who's leary of a 400-pound man breaking a toilet seat or collapsing a porch.  
The enticingly-named Tigress Osborn, who chairs the National Association to Advance Fat Acceptance, said New York's ban "will ripple across the globe" -- perhaps something like what would happen if the hefty Smith College Africana Studies graduate were dropped into a swimming pool.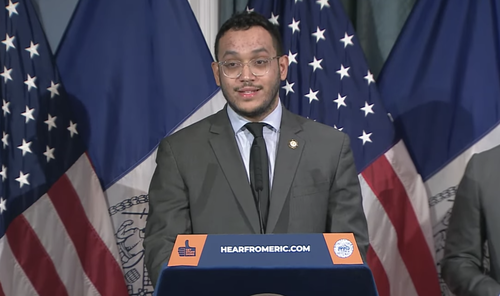 The New York Times reports that witnesses who testified as the measure was under consideration included "a student at New York University said that desks in classrooms were too small for her [and] a soprano at the Metropolitan Opera [who] said she had faced body shaming and pressure to develop an eating disorder." 
Some have dared to speak out against the measure. "This is another mandate where enforcement will be primarily through litigation, which imposes a burden on employers, regulators and the courts," said Kathryn S. Wylde, president of the Partnership for New York City, speaking in April. 
Implicitly putting the weight ordinance in the same category as Brown vs Board of Education, Abrue said, "Today is a monumental advancement for civil rights, size freedom and body positivity and while our laws are only now catching up to our culture, it is a victory that I hope will cause more cities, states and one day the federal government to follow suit." 
Taking effect in six months, the law has an exemption for employers "needing to consider height or weight in employment decisions" -- but "only where required by federal, state, or local laws or regulations or where the Commission on Human Rights permits such considerations because height or weight may prevent a person from performing essential requirements of a job." 
We pray there's a federal exemption for employers of strippers and <gulp> lap dancers. 
Think we're joking? We remind you that the chair of the National Association to Advance Fat Acceptance is named "Tigress" -- and this is her Twitter profile banner photo:

Loading...