---
"An Unprecedent Inquiry": Manhattan DA Fires Off Angry Letter Blaming Trump For Arrest Rumors
Manhattan District Attorney Alvin Bragg - who lied about growing up poor, has fired off an angry letter to House Republicans, calling their investigation into his case against former President Trump over hush payments to Stormy Daniels "an unprecedent [sic] inquiry into a pending local prosecution," adding "The letter only came after Donald Trump created a false expectation that he would be arrested the next day and his lawyers reportedly urged you to intervene."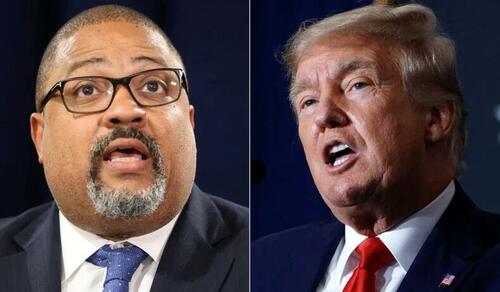 See the full response below.
The response comes after a Monday letter from House Republicans on the Weaponization of the Federal Government subcommittee.
"You are reportedly about to engage in an unprecedented abuse of prosecutorial authority: the indictment of a former President of the United States and current declared candidate for that office," read the Monday letter to Bragg from Reps. Jim Jordan (Judiciary Chairman), James Comer (Oversight Chairman) and Bryan Steil (House Admin Chairman).
The letter went on to shred the 'untested legal theory' underpinning Bragg's expected indictment, and calls out former Trump Attorney Michael Cohen, Bragg's star witness and a convicted perjurer, as having a "serious credibility problem."
GOP investigators demanded all documents and communications related to the decision.
And now, Bragg claims the GOP is overstepping their bounds.
"The letter's requests are an unlawful incursion into New York's sovereignty," the letter continues.
Earlier this week, Trump posted to Truth Social that he would likely be arrested on Tuesday - a rumor which set off a firestorm of political debate over a case which would normally be a misdemeanor, and was elevated to a felony by Bragg.
On Wednesday, a 2018 letter emerged in which an attorney for former Trump fixer Michael Cohen says that Cohen paid Stormy Daniels out of his own pocket and was not reimbursed.
"In a private transaction in 2016, before the U.S. presidential election, Mr. Cohen used his own personal funds to facilitate a payment of $130,000 to Ms. Stephanie Clifford [Stormy Daniels]," reads the 2018 letter from Cohen attorney Stephen Ryan to the Federal Election Commission, which asserts that Trump was not involved in the hush payment to the former porn star.
🚨BREAKING: New Bombshell Document DESTROYS Manhattan DA's Case Against Trump

2018 Letter from Michael Cohen's lawyer to the FEC declares Cohen used his own personal funds to pay Stormy Daniels. Trump Camp. NOT party to transaction, did NOT reimburse Cohen for payment. It's OVER pic.twitter.com/QacsjSbZAz

— Benny Johnson (@bennyjohnson) March 22, 2023
Cohen's credibility has already been called into question:
"Michael Cohen is far from solid evidence:" Cohen's former legal advisor Robert Costello attacked his ex-client's credibility as the "star witness" in the hush money case against former President Donald Trump. More: https://t.co/crLKBCYjsW pic.twitter.com/TYRpvSmR9W

— NewsNation (@NewsNation) March 20, 2023
See Bragg's full letter below:
Loading...