---
US Hits China With Human Rights Sanctions In Major Joint Action With Western Allies
In coordination with the newly announced European Union sanctions on select Beijing officials for the alleged ongoing major crackdown on Muslim Uighurs, the Biden administration has hit Beijing with its own punitive sanctions, setting tensions further on edge just two days after the conclusion of the fiery Alaska summit. 
The US sanctions target to top Chinese officials for "serious human rights abuses" against Uighur minorities concentrated in northwest Xinjiang province. Along with the EU, the sanctions were coordinated with Canada and the United Kingdom, which rolled out with similarly targeted sanctions that included additional individuals, according to a Treasury Department statement.
"Chinese authorities will continue to face consequences as long as atrocities occur in Xinjiang," Treasury's Director of the Office of Foreign Assets Control Andrea M. Gacki said. Meanwhile, it could be the US administration is still smarting over this...
"if there were ever to be a date for historians to mark the televised humiliation and official end of American hegemony, it would be the public verbal slapping of Secretary of State Antony Blinken and NSA Jake Sullivan by Chinese ambassador on U.S. soil." https://t.co/dWPBs13GdA

— Mollie (@MZHemingway) March 22, 2021
"Treasury is committed to promoting accountability for the Chinese government's human rights abuses, including arbitrary detention and torture, against Uyghurs and other ethnic minorities," she added. The statement identified the following individuals that fall under the new US action:
The US designated Wang Junzheng, the Secretary of the Party Committee of the Xinjiang Production and Construction Corps, and Chen Mingguo, Director of the Xinjiang Public Security Bureau.
"These individuals are designated pursuant to Executive Order (E.O.) 13818, which builds upon and implements the Global Magnitsky Human Rights Accountability Act and targets perpetrators of serious human rights abuse and corruption," the Treasury Department added.
The UK government neanwhile said of the coordinated actions in a statement: "Acting together sends the clearest possible signal that the international community is united in its condemnation of China's human rights violations in Xinjiang and the need for Beijing to end its discriminatory and oppressive practices in the region."
In response to the earlier Monday morning EU sanctions announcement, which was a first in over three decades, China's Ministry of Foreign Affairs blasted the EU as "disregarding and distorting the facts" as well as "grossly interfering in China's internal affairs" by bringing sanctions against government officials.
China has maintained the Uighur crackdown and charges of genocide are "based on nothing but lies and disinformation."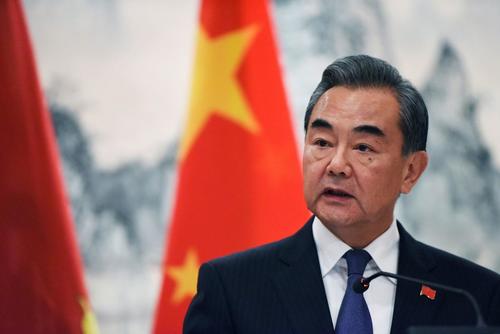 EU-targeted individuals will have their assets frozen and are effectively banned from traveling to EU countries. China swiftly retaliated, according to an official statement on government websites: "China has decided to impose sanctions on 10 persons and 4 entities that have seriously harmed China's sovereignty and interests and maliciously spread lies and false information on the European side.
Similar 'retaliatory' action is now expected imminently to be leveled against Washington.