---
US Pushing Japan's PM Suga To Issue Joint Taiwan Statement With Biden
On Friday Joe Biden will for the first time host a foreign leader at the White House and the stakes couldn't be higher, given he's reportedly urging Japan's prime minister Yoshihide Suga to come out publicly and more forcefully alongside the United States in full support of Taiwan against what's seen as hostile Chinese encroachment on the democratic island. "Biden... is asking for a more explicit and public posture, in contrast to the private tough line we hear from Tokyo," a regional expert and head of the Japan Society Joshua Walker observes.
A bombshell new report in FT details that Biden will seek Japan's cooperation in a joint statement which shines light on "rising Chinese aggression in the Indo-Pacific region" at a moment Tokyo is among other regional US allies attempting to ward off expansive Chinese territorial claims. In Japan's case it's currently attempting to warn off Beijing from the Senkaku Islands, which is poised to escalate dramatically at any moment, given the Tokyo government just authorized its Coast Guard to be able to use deadly force should incidents with Chinese fishing vessels become threatening.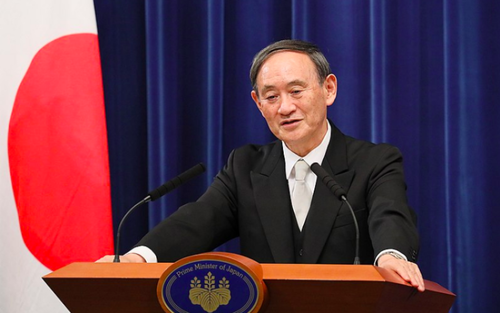 However, many Japanese officials are said to be worried that a joint Taiwan statement with Biden would unnecessarily antagonize China but with no immediate strategic gains. They see the recent statements issued during the visit of Secretary of State Antony Blinken and Defense Secretary Lloyd Austin to Japan as enough. That prior statement had emphasized the "importance of peace and stability in the Taiwan Strait."
FT presents some of the details surounding PM Suga's visit as follows:
Kurt Campbell, the top White House Asia official spearheading the talks, has been holding frantic discussions with Japanese representatives, including during a whirlwind visit to Tokyo last week. The White House declined to comment on the status of the negotiations with Japan.

Japan's foreign ministry said a post-summit statement was still under discussion. One senior Japanese official rejected the idea that Tokyo was reluctant to mention Taiwan. 
All of this comes as Biden has sent an "unofficial delegation" to Taiwan which is expected to meet with officials in Taipei on Thursday. It includes former deputy secretaries of state Richard Armitage and James Steinberg, as well as former senator Chris Dodd.
Admiral Phil Davidson of Indo-Pacific Command, tells Senate Committee, China will threaten war over Taiwan, in the next 6 years.
Saying we must present a scenario every new day, that makes CCP feel "I don't want to mess with that capability" (of the U.S.)https://t.co/jbyjJTfKTh

— Julian Carden (@Julian11810) April 6, 2021
In response, China is holding "combat drills" near Taiwan, which is somewhat rare in terms of this classification - and no doubt another message that Washington is "playing with fire" as Beijing officials have been warning of late. 
The reality is that if China sees Japan as fully joining on with Washington's belligerent and vocal position on Taiwan, it could provoke hostile acts in the East and South China seas. In particular it might motivate China to make a clear move on the Senkakus as a glaring "message" to Tokyo.