---
US Sanctions 24 China & Hong Kong Officials Hours Before "Frosty" Alaska Summit
In a move likely to sabotage any potential (however unlikely) diplomatic breakthrough with China, on the eve of the much anticipated Alaska talks which kick off Thursday between delegations headed by Secretary of State Antony Blinken and China's two top diplomats, the Biden administration slapped sanctions on 24 Chinese and Hong Kong officials. 
This in response to Beijing's voting through the sweeping Hong Kong election overhaul which effectively ensures the city is run only by pro-mainland "patriots". But more symbolically it's a clear message the US delegation is about to play hardball when it sits down with the Chinese side in Anchorage over a period of two days:
The step reflects Washington's "deep concern" about the erosion of Hong Kong's autonomy following changes to its election system endorsed by China's ceremonial legislature last week, Secretary of State Antony Blinken said in a statement Wednesday.

Foreign financial institutions that deal with the 24 officials would be subject to U.S. sanctions, the State Department said.
Given the two sides don't even appear to have reached agreement as to the nature of the Thursday through Friday Alaska meeting, it's sure to be a "frosty" two days, as Politico and others have commented.
This is further as the tit-for-tat angry accusations and denunciations have continued, which have remained no less intense from those of the final year of the Trump administration.
At the Chinese Foreign Ministry a spokesperson blasted Blinken's announced sanctions even as Chinese diplomats are already in the air traveling to Anchorage:
The imposition of new sanctions "fully exposes the U.S. side's sinister intention to interfere in China's internal affairs, disrupt Hong Kong and obstruct China's stability and development," Chinese Foreign Ministry spokesperson Zhao Lijian told reporters at a daily briefing Wednesday.

"China will take strong measures as appropriate to resolutely defend national sovereignty, security and development interests," Zhao said.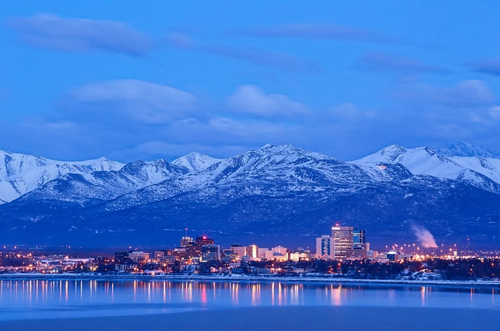 In particular the sanctions at hand target 14 members of China's legislative council, the National People's Congress Standing Committee, along with other officials seen as responsible for driving through the 'election overhaul' which cedes more control to Beijing.
Making tensions worse just before the two sides are set to meet, Blinken while traveling with Secretary of Defense Lloyd Austin in Japan released a scathing joint statement with Tokyo earlier this week. They blasted China for what they called "coercion and destabilizing behavior toward others in the region."