---
US Says Government, Not Moderna, Should Face COVID-19 Vaccine Lawsuit
Authored by Zachary Stieber via The Epoch Times (emphasis ours),
The U.S. government is asserting that it, not Moderna, should face a lawsuit that alleges the company committed patent infringement with its COVID-19 vaccine.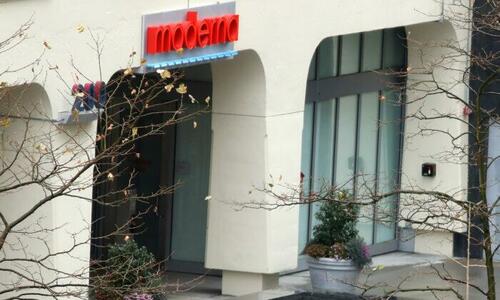 The government said the court should allow it to "relieve Moderna of any liability for patent infringement resulting in performance of the '-0100 contract and to transfer to the United States any liability for the manufacture or use of the inventions claimed in the patents-in-suit resulting from the authorized and consented acts."
Liability did not refer to an admission of patent infringement, the filing said, but "having legal responsibility for any acts that may constitute the alleged infringement."
Arbutus Biopharma and Genevant Sciences sued Moderna in 2022 in federal court in Delaware, alleging Moderna in its vaccine used "breakthrough technology" that Arbutus had already created and patented.
Moderna later filed for dismissal, arguing that under federal law, any infringement claims relating to inventions being used "by or for the government" and with "the authorization and consent of the government" must be handled in the Court of Federal Claims.
The first prong was satisfied in the 2020 contract between Moderna and the U.S. Army—the '-0100 contract—which stated in part that the agreement was "for the United States government … and the U.S. population," Moderna said. The second prong, the company said, was met by the insertion of a regulation stating the government "authorizes and consents to all use and manufacture, in performing this contract or any subcontract at any tier, of any invention described in and covered by a United States patent."
In his ruling rejecting Moderna's attempt to dismiss the case, U.S. District Judge Mitchell Goldberg said the allegations against Moderna indicated the development and sale of the vaccines was primarily for the benefit of the vaccine's recipients. The U.S. government was an incidental beneficiary, he said. Under legal precedent, the law, 1498, does not cover inventions with an incidental benefit.
"While discovery may reveal that all, some, or none of the alleged infringing activity was 'for the Government,' the limited record appropriate for consideration at this stage does not allow me to make any such determination," Goldberg, a George W. Bush appointee, said. The judge also declined to find that Moderna met the standard for having the government's authorization and consent, in part because the government had not filed any papers in support of the company.
In the new statement of interest, government lawyers made clear they are backing Moderna.
Read more here...
Loading...