---
Vast Majority Of Americans Say Illegal Immigration Is Either "Crisis" Or "Major Problem"
Authored by Tom Ozimek via The Epoch Times,
Amid a historic wave of people crossing the U.S.-Mexico border unlawfully, an overwhelming majority of Americans polled say that illegal immigration is a crisis or—at best—a "major problem."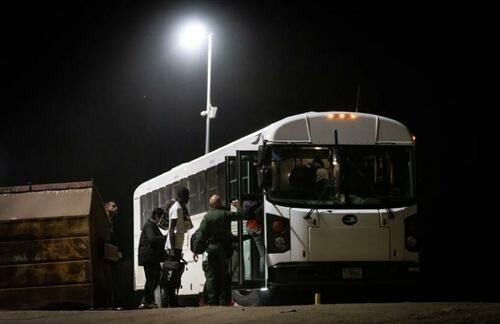 A recent poll by Gallup found that 39 percent of Americans believe the border situation is a full-blown "crisis." Another 33 percent think it's a "major problem," meaning that a whopping 72 percent believe the situation on the border is bad enough to be considered seriously problematic.
Views on illegal immigration held by Republicans - who have long opposed open borders - have remained mostly unchanged from 2019, when a similar poll was conducted by Gallup during the administration of then President Donald Trump.
The relatively stable share (88 percent in 2019 vs. 91 percent in 2023) of Republican respondents saying illegal immigration is at least a "major problem" suggests that porous borders are less of a partisan issue than a matter of deep conviction for those aligned with the GOP.
Democrats, on the other hand, have sharply raised their tolerance for illegal immigration between the Trump-era days and those of the administration of President Joe Biden, a fellow Democrat.
In 2019, 68 percent of Democrats said it was a crisis or major problem, with that dropping to just 56 percent at the present time, suggesting Democrat views on the issue shift based on politics.
Republicans in Congress have blamed the Biden administration for policies they say encourage people to undertake the perilous trek north and cross the U.S.-Mexico border illegally.
The Biden administration has blamed factors outside its control—like crime, corruption, and poverty in countries of origin—while blaming Mr. Trump for undermining the country's asylum system, which the current administration says it's trying to fix.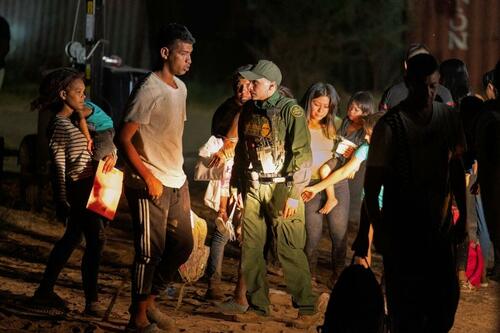 Illegal immigrants wait to be taken by Border Patrol to a processing facility to begin their asylum-seeking process in Eagle Pass, Texas, on June 25, 2023. (Suzanne Cordeiro/AFP via Getty Images)
June Numbers
Meanwhile, Customs and Border Protection (CBP) reported this week that 144,607 encounters happened in June along the Southwest border, the lowest number since February 2021.
CBP officials credited the decline in part to the Biden administration's expansion of legal pathways and processes for entry into the United States.
"Our sustained efforts to enforce consequences under our longstanding Title 8 authorities, combined with expanding access to lawful pathways and processes, have driven the number of migrant encounters along the Southwest border to their lowest levels in more than two years. We will remain vigilant," Troy A. Miler, CBP Senior Official Performing the Duties of the Commissioner, said in a statement.
June marked the first full month since Title 42 restrictions expired on May 11 and were replaced with a new policy that, in many ways, resembled the one that ended.
Title 42 was a regulation designed to prevent the introduction of contagious diseases in the United States. The rule was issued by the Trump administration in 2020 at the beginning of the COVID-19 pandemic and was used over 2.5 million times to block asylum claims.
When Title 42 ended, the Biden administration rolled out a new rule (pdf), which essentially reinstates a Trump-era travel policy, stipulating that illegal immigrants would be disqualified from applying for asylum in the United States if they didn't first seek protection in countries that they traveled through on their way to the United States, with limited exceptions.
The regulation is meant to decrease human smuggling activities at the southern border by encouraging asylum-seekers to use "lawful, safe, and orderly" pathways, such as seeking refuge in a country that they've passed through.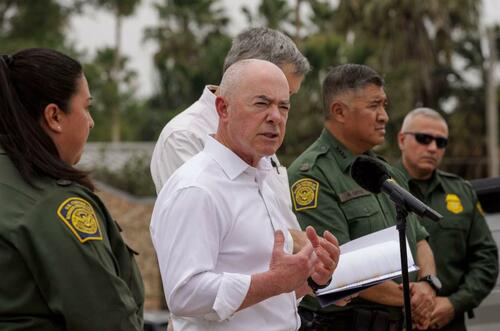 Department of Homeland Security Sec. Alejandro Mayorkas (2nd-L) speaks at a press conference on May 5, 2023, in Brownsville, Texas. (Michael Gonzalez/Getty Images)
Hours before Title 42 was set to expire, Department of Homeland Security (DHS) Secretary Alejandro Mayorkas said that smugglers had been spreading the word that the border would be open after Title 42 expired.
"I want to be very clear: our borders are not open," he said at the time. "People who cross our border unlawfully and without a legal basis to remain will be promptly processed and removed."
Issuing a warning to those considering making the trek to the border, he stressed:
"Smugglers care only about profits, not people. Do not risk your life and life savings only to be removed from the United States if and when you arrive here."
Since Mr. Biden took office, over 5 million illegal immigrants have crossed the border into the United States.
Scheduled Arrivals
Meanwhile, DHS said at the end of June that more would-be illegal immigrants would be able to schedule their entry into the United States.
The department's Customs and Border Protection (CBP) will allow up to 1,450 appointments per day, an increase of 200 from the current number and 450 from the number available in May.
"CBP is expanding the number of available appointments at ports of entry for the second time in less than two months, through scheduling enhancements and operational efficiencies," Troy Miller, the top CBP official, said in a statement.
The appointments, made through an application called CBP One, are "providing for safe and efficient processes at ports of entry," he added.
The would-be immigrants can schedule an appointment at a port of entry, or an official border crossing, through the application.
The appointment scheduling was part of a January Biden administration announcement on steps that would be taken to deal with the spike in illegal immigration that has occurred since Mr. Biden took office.
Loading...