---
Virginia, West Virginia Governors Sending National Guard Troops To Texas Border
Authored by Ryan Morgan via The Epoch Times (emphasis ours),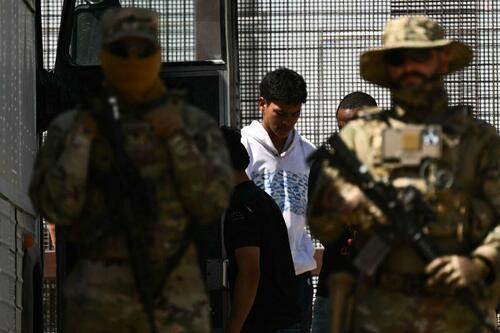 The governors of Virginia and West Virginia are the latest Republican state leaders to announce deployments of National Guard troops to assist Texas Gov. Greg Abbott's border security efforts.
On Wednesday morning, Virginia Gov. Glenn Youngkin announced he would deploy 100 of his state's National Guard troops to Texas.
"The ongoing border crisis facing our nation has turned every state into a border state," Youngkin said. "As leadership solutions at the federal level fall short, states are answering the call to secure our southern border, reduce the flow of fentanyl, combat human trafficking and address the humanitarian crisis. Following a briefing from Governor Abbott last week, Virginia is joining other states to deliver on his request for additional assistance."
In a Wednesday morning press conference, West Virginia Gov. Jim Justice also announced he would deploy 50 of his state's National Guard troops to Texas.
"I know our National Guard will do incredible work, and we'll wish them Godspeed to get home safe and sound," Justice said. "I thank them all for their incredible bravery and for stepping up yet again to answer the call."
Abbott has been using Texas state resources in recent months in a mission to stem the flow of illegal border crossings into the country. In recent weeks, Texas National Guard troops and Department of Public Safety officers have been seen setting up razor fences and turning back people attempting to cross from Mexico into Texas illegally.
Abbott has stepped up this border security effort after President Joe Biden's administration ended the federal Title 42 immigration policy on May 11. Following the outbreak of COVID-19, U.S. officials had used Title 42 authorities to rapidly turn away and expel illegal immigrants under public health justifications.
On May 16, 24 Republican governors signed a letter pledging to support Abbott's border security effort, including Youngkin and Justice. Since then, several Republican governors have deployed their state National Guard troops and state police resources to assist border control efforts.
Other States Sending Troops
Florida Gov. Ron DeSantis was among the first Republican governors to pledge specific resources to Abbott's border security mission. On May 16, DeSantis announced his state would send 800 Florida National Guard soldiers, 200 Florida Department of Law Enforcement officers, 20 Florida Fish and Wildlife Conservation Commission officers, and 20 Emergency Management personnel to Texas. DeSantis also pledged five fixed-wing aircraft, two mobile command vehicles, 17 unmanned aerial vehicles (drones), and 10 watercraft.
On May 17, Mississippi Gov. Tate Reeves announced an unspecified number of troops from the Mississippi National Guard's 112th Military Police Battalion would deploy to assist U.S. Customs and Border Protection (CBP) officers and agents along the southwest border.
On May 24, Tennessee Gov. Bill Lee announced he had authorized the deployment of 100 Tennessee National Guard troops to the border. Lee said these troops would patrol and provide an added security presence at the border, help staff outposts, and assist in road and route clearance, barrier placement, and debris removal.
"America continues to face an unprecedented border crisis that threatens our nation's security and the safety of Tennesseans," Lee said of the deployment.
"The federal government owes Americans a plan to secure our country, and in the meantime, states continue to answer this important call to service," Lee added. "I am again authorizing the Tennessee National Guard to help secure the Southern border, and I commend these troops for providing critical support."
On May 24, Nebraska Gov. Jim Pillen also announced he would send 10 Nebraska state troopers to Texas to assist Abbott's border security mission.
Read more here...
Loading...