---
Wall Street Banks, And Their Employees, Now Officially Lean Democrat
You'd think that voting Republican would be an easy decision if you work on Wall Street, especially given the lower taxes and the removal of burdensome regulations. But Democrats have entangled themselves so deeply in the web of Wall Street, that the industry is now leaning to the left, according to a new report from Reuters. 
The Center for Responsive Politics took a look at how the industry, and its employees, break down for the 2020 election cycle.
It has been obvious that Democratic candidate Joe Biden has been outpacing President Trump when it comes to fundraising, and this is also true of "winning cash from the banking industry," Reuters notes.
Biden's campaign has been the beneficiary of $3 million from commercial banks, compared to the $1.4 million Trump has raised. This is a far skew from 2012, where Mitt Romney was able to raise $5.5 million from commercial banks, while Barack Obama only raised $2 million. In 2012, Wall Street banks were among the top five contributors to Romney' campaign. 
In 2020, campaign contributions to congressional races from Wall Street banks are about even. Republicans have raised $14 million while Democrats have brought in $13.6 million. About four years ago, Republicans pulled in $18.9 million, which was about twice as much as the Democrats raised. In 2012, Republicans raised about 61% of total bank donations.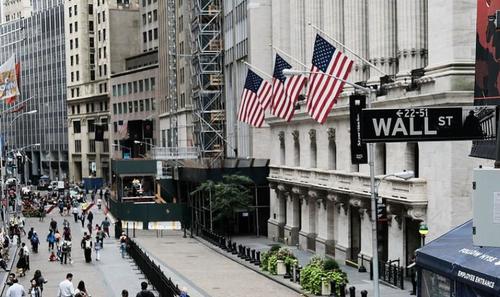 Interestingly enough, when Biden and Trump are removed from the equation, the highest recipient from Wall Street is none other than Bernie Sanders, who has raised $831,096. Sanders often tops contributions in many industries due to his grassroots following. 
When you remove the employees from the equation and only look at how the bank's political arms donate, the picture turns more Republican-friendly. 
House of Representatives lawmaker Blaine Luetkemeyer of Missouri, one of the senior Republicans on the House Financial Services Committee, which is key for the banking industry, tops the list, hauling in $226,000. Next up is Patrick McHenry of North Carolina, the top Republican on that panel, with $185,500 in cash from bank political committees.

The top 20 recipients of bank political funds comprise 14 Republicans and six Democrats. Representative Gregory Meeks of New York, a senior member of the House banking panel, received the most among Democrats, with $140,000.
The shift in data shows that while Wall Street's top brass may still understand the value of Republican leadership, bank employees themselves may overwhelmingly favor progressives.