---
Watch: ABC News Blurs Out Trump Donation Number
Authored by Steve Watson via Summit News,
Allegations of election interference have been thrown at ABC News after the network appeared to blur out a donation text number on Donald Trump's lectern during his speech from Mar-a-Lago on Tuesday night, yet has previously allowed Joe Biden's donation number to be broadcast.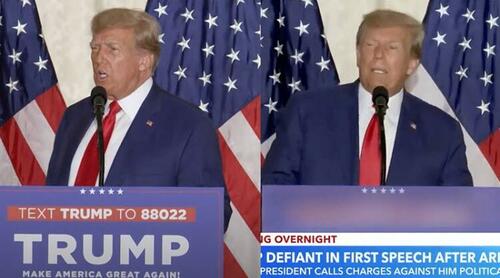 ABC News obscured the instruction "TEXT TRUMP to 88022" during the coverage.
The text number provides those interested with information on how to donate to Trump's presidential campaign.
Someone at ABC obviously didn't want to publicise that.
Watch:
ABC News blurs out "TEXT TRUMP to 88022" in its coverage of Trump's post-arraignment speech as reports suggest the Trump campaign has raised over $10 million since his indictment. pic.twitter.com/nCrE3XzSS5

— Charlie Kirk (@charliekirk11) April 5, 2023
Here is the video on ABC News' YouTube channel:
When Joe Biden is campaigning, ABC News is happy to let viewers know where to text:
Looks like election interference to me.

— David Giglio (@DavidGiglioCA) April 5, 2023
Some called for Elon Musk to have Twitter add a 'state affiliated media' tag to ABC News, as has happened with NPR.
hey @elonmusk time to add a tag to ABC News...

— SgtTickles (@realsgttickles) April 6, 2023
@elonmusk looks like we need to label @ABC as state sponsored media like you did with NPR.

— John Mark (@lifestoshort949) April 6, 2023
At least ABC News broadcasted Trump's speech. MSNBC instead cut away, with Rachel Maddow telling viewers not to listen to it:
MSNBC Rachel Maddow
Do not listen to President Trump's defense speech. Just listen to us spin it for you.
This is laughable "News organization" Not so much. pic.twitter.com/wRzToPl5Ji

— Big Fish (@BigFish3000) April 5, 2023
*  *  *
Brand new merch now available! Get it at https://www.pjwshop.com/
In the age of mass Silicon Valley censorship It is crucial that we stay in touch. We need you to sign up for our free newsletter here. Support our sponsor – Turbo Force – a supercharged boost of clean energy without the comedown. Also, we urgently need your financial support here.
Loading...