---
Watch: Biden Press Secretary Claims Illegal Immigration DOWN By 90%
White House Press Secretary Karine Jean-Pierre claimed on Monday that illegal immigration has dropped 92% under the Biden administration.
"When it comes to illegal migration, you have seen it come down by more than 90%, and that's because of the actions that this president has taken," she said.
Jean-Pierre: "When it comes to illegal migration, you have seen it come down by more than 90%."

pic.twitter.com/unGIAQQswv

— Washington Free Beacon (@FreeBeacon) May 1, 2023
Oh?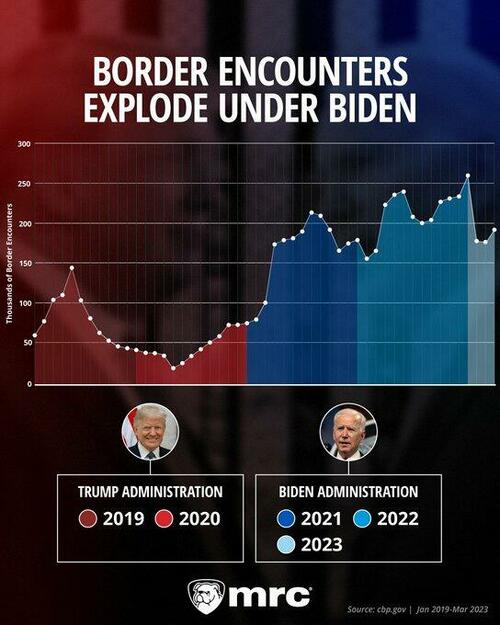 According to US Customs and Border Protection, over 5 million illegal immigrants have crossed the US border since Biden took office, not to mention around 1.2 million 'gotaways' (a figure which is undoubtedly far higher).
Reactions to Jean-Pierre's latest steaming pile of lies were, as one would expect:
We are suffering through the largest tidal wave of illegal immigration in human history and it's not even close.

— Stephen Miller (@StephenM) May 1, 2023
…where? Because it's not the US southern border. pic.twitter.com/qqWoi6nPWF

— GruntDoc (@gruntdoc) May 1, 2023
Seven Million to date — before Title 42 has ended. 90% less than what @PressSec?

— ETN Patriot (@etn_patriot) May 1, 2023
And as Summit News notes, Jean-Pierre also spoke about a "horrific act of gun violence" amid a manhunt for an illegal immigrant accused of murdering five of his neighbors. Jean-Pierre, of course, didn't note that the man was illegal, or that he has been deported multiple times from the United States.
Instead Jean-Pierre used the case as a way of pushing for increased gun control, stating "the President believes prayers alone are not enough. Congress must act because what makes tragedies like this one all the more heart wrenching is the fact that it is entirely within our power to take these weapons of war off our streets." -Summit News
KJP kicks off the briefing by discussing the shooting in Cleveland, Texas. Of course, there was no mention that the suspect was an illegal alien and wouldn't have been able to kill anyone if not for Biden's refusal to secure the border. pic.twitter.com/6e1uEbEsqf

— Kevin Tober (@KevinTober94) May 1, 2023
He couldn't even buy a gun legally

— Unlimited (@Purpleskei) May 1, 2023
Loading...