---
Watch: Crowd Control Turns Deadly - 174 Killed At Indonesia Soccer Stadium
In one of the worst stadium disasters ever, at least 174 people were trampled to death or suffocated in a soccer riot in Indonesia on Saturday night. More than 100 were injured. 
The fatal mayhem began just after the game ended and the host Arema Football Club lost 3-2 to Persebaya Surabaya. A police official told Associated Press that all 42,000 spectators at Kanjuruhan Stadium were backers of Arema FC, as Persebaya fans had been banned to prevent fights.  
Arema fans stormed their home pitch to vent their frustration over the team's first home loss against Persebaya in 23 years. Video shared on social media shows the fans on the field were promptly confronted by baton-wielding police with riot shields.
WARNING: GRAPHIC ⚠️ Over 120 people in Indonesia have died as a result of chaos and violence after a soccer gamepic.twitter.com/vDFftBvQZf

— Fifty Shades of Whey (@davenewworld_2) October 2, 2022
The fans quickly fled the pitch, with several being struck by batons:
NEW - Over 100 people were killed tonight in riots that broke out at a football match in Indonesia.pic.twitter.com/hGZEwQyHmL

— Disclose.tv (@disclosetv) October 1, 2022
Police fired tear gas after most fans had cleared the field. Rather than controlling the crowd, the tear gas clouds triggered a panicked rush to a narrow exit, as the The New York Times reports: 
Hundreds of people ran to one exit gate in an effort to avoid the tear gas. Some suffocated and others were trampled, killing 34 almost instantly. "There was a pile-up," [East Java police chief Nico] Afinta said. "The buildup process resulted in shortness of breath and lack of oxygen."
Tweeted video shows fans scaling fences to escape the tear gas: 
At least 120 dead, 180 more injured in a riot after a football match in Indonesia https://t.co/FEdHhDBTFb pic.twitter.com/iEQrIowvRu

— BERNAMA (@bernamadotcom) October 2, 2022
"The stadium turned into a smoke-filled battleground when police fired tear gas," a spectator told AP. "I felt hot and stinging in my eyes, I couldn't see clearly while my head was dizzy and everything went dark ... I passed out." He awoke in an emergency room to learn his cousin had died of a head injury. 
#Breaking: Update - Other shocking video footages showing you the chaos inside of the hospital, after riot police cornered fans of the football game, tear gassed them extremely and had no place to run, killing 153 people injured 300 others in #Indonesia. pic.twitter.com/2yXmGUg9AH

— Sotiri Dimpinoudis (@sotiridi) October 2, 2022
At a press conference after the catastrophe, police chief Afinta sought to justify the police actions: "Tear gas was used because there was anarchy. They were about to attack the officers and had damaged the cars."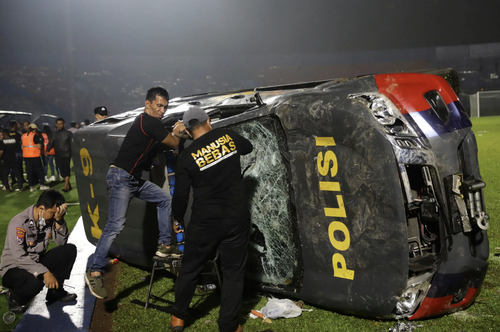 However, most observers are pinning the catastrophe on the police. Citing FIFA game-management guidelines that bar the use of "crowd control gas," Amnesty International called for an investigation, and riots erupted as Indonesians lashed out at authorities:
#Breaking: Just in - Reports of mass rioting going on at police vehicles, in #Indonesia, after they found out that riot police inside the stadium caused the death of 153 people. pic.twitter.com/vR8IYrMYxe

— Sotiri Dimpinoudis (@sotiridi) October 2, 2022
The soccer league has suspended play for at least a week, and Indonesian President Joko Widodo ordered an investigation. "I regret this tragedy and I hope this is the last tragedy of football in the country," said Jokowi. "We must continue to maintain sportsmanship, humanity and a sense of brotherhood of the Indonesian nation."
Indonesian soccer has a violent history, reports The New York Times: 
Violent, often deadly rivalries between major teams are common. Some teams even have fan clubs with so-called commanders, who lead armies of supporters to matches across Indonesia. Flares are often thrown on the field, and riot police are a regular presence at many matches. Since the 1990s, dozens of fans have been killed in soccer-related violence.
Despite the history of bloodshed, Indonesia will play host to the FIFA under-20 World Cup this coming May and June. The country is also contending to host the 2023 Asian Cup -- though Saturday's calamity will likely decimate any chance of that happening. 
"Unfortunately, this incident has certainly injured our soccer image," said Youth and Sports Minister Zainudin Amali. 
Tear gas was also at the center of history's worst-ever sports tragedy. In the Estadio Nacional disaster in 1964, 328 people died in Lima, Peru at a game between Argentinian and Peruvian national teams. Outraged when a referee disallowed a would-be tying goal by Peru late in the game, fans stormed the pitch, and police responded with tear gas, causing a fatal crush as fleeing fans were pinned against closed gates.  
Loading...