---
Watch: DeSantis Says He'd Consider Drone-Striking Mexican Cartels
Authored by Steve Watson via Summit News,
Florida Governor Ron DeSantis declared Thursday that if he was elected President he would "absolutely reserve the right" to drone strike Mexican drug cartels.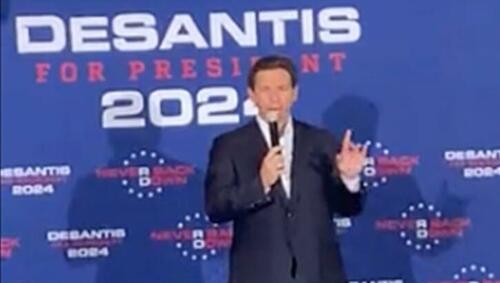 During a Q&A in Iowa, DeSantis said that he would consider the move "if they're invading our country and killing our people."
DeSantis is asked if he would approve drone strikes on people suspected of drug smuggling from Mexico.

"Yes, I've already said that," DeSantis replied. "And it's not just if they happen to come over the border." pic.twitter.com/x6Omxa6GV0

— Amie Rivers (@amierrivers) August 10, 2023
In a follow up on the comments, DeSantis told NBC News "I said I would use whatever force we need to defend the country," adding "We'd be willing to lean in against them, and we reserve the right to defend our country."
Earlier this month, DeSantis vowed to build a wall on the Mexican border as well as use lethal force against the cartels.
"Day one, we're declaring it to be a national emergency," he said, adding "I'm going to do what no president has been willing to do. We are going to lean in against the cartels directly, and we are going to use deadly force against them."
Ron DeSantis says US should build border wall, use 'deadly force' against drug cartels https://t.co/88lLgKSsul

— WMUR TV (@WMUR9) August 5, 2023
Ron DeSantis: "I'll be the first president that's been willing to lean in against the drug cartels and hold them accountable for the carnage that they're causing in this country."

"We're authorizing deadly force... when they try to break into this country." pic.twitter.com/yaJCkRmBqk

— Never Back Down (@NvrBackDown24) August 7, 2023
Today, drug cartels are responsible for killing more Americans than any other group or country. Yet we just sit back and do nothing?

As President, I will authorize use of deadly force against drug smugglers cutting through the border wall.

We have to take the fight to the… pic.twitter.com/8MNiG8YhQz

— Ron DeSantis (@RonDeSantis) August 8, 2023
Meanwhile, more Democrats are slating Joe Biden's failed immigration policy, with New York City mayor Eric Adams calling it "not sustainable" with massive amounts of illegals showing up there and essentially living on the streets.
As Biden's border crisis reaches his city, New York City Democrat Mayor Eric Adams complains it's "not sustainable" pic.twitter.com/5cjB6QFbyB

— RNC Research (@RNCResearch) August 10, 2023
*  *  *
Brand new merch now available! Get it at https://www.pjwshop.com/
In the age of mass Silicon Valley censorship It is crucial that we stay in touch. We need you to sign up for our free newsletter here. Support our sponsor – Turbo Force – a supercharged boost of clean energy without the comedown.
Also, we urgently need your financial support here.
Loading...