---
Watch: El Salvador Sends Thousands Of Tattooed Gang Members To Mega-Prison
Government authorities in El Salvador are circulating some surreal images in order to prove to the nation and the world that they are cleaning up crime in a country that's currently under a state of emergency due to rampant murders and violent crime. 
President Nayib Bukele has recently declared a "war on crime" and his message to gangs came in the form of publicizing 'shocking' video footage showing some 2,000 suspected gang members being huddled into a newly opened large prison using military tactics. Tens of thousands more suspected criminals have reportedly been rounded up. Watch below: 
Video from the president of El Salvador.

Seems like "lock up all the guys with gang tattoos all over their bodies and throw away the key" was pretty low-hanging fruit?

It's interesting how many countries can't even manage that. The criminals make it easy pic.twitter.com/xUk2Cj1l3U

— Richard Hanania (@RichardHanania) February 25, 2023
The footage has been met with some controversy, given there are allegations that innocent men may have been caught in the broad anti-gang dragnet. 
Additionally, the police appear to be utilizing military prison tactics not seen since post 9/11 Gitmo images. According to international reports: 
President Bukele tweeted that the first 2,000 people were transferred "at dawn, in a single operation" to the Center for the Confinement of Terrorism, which he says is the largest jail in the Americas.

"This will be their new house, where they will live for decades, all mixed, unable to do any further harm to the population."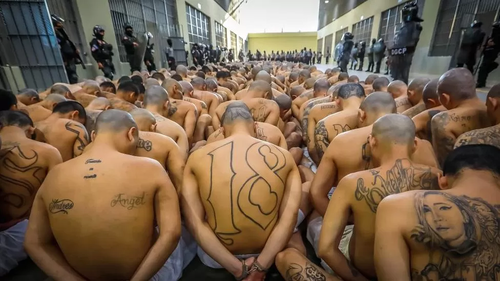 Once widely dubbed the "homicide capital of the world" - authorities in recent years thought they had it under control, but murders spiked over the past year.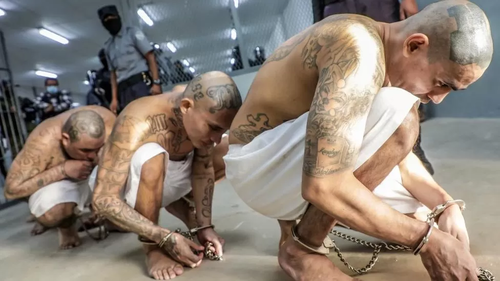 This caused President Nayib Bukele to declared a state of emergency eight months ago, and police went 'gloves off' in attempting to clear the streets of gangs.
Loading...