---
Watch: Jon Stewart Slams "Media Narrative Machine" For Dismissing Lab-Leak As "Conspiracy Theory"
Authored by Steve Watson via Summit News,
Jon Stewart, who was one of the only personalities on the left to raise the possibility that the COVID pandemic was caused by a lab leak in Wuhan, has slammed the 'media narrative machine,' after renewed credence was given to the likelihood by the Department of Energy.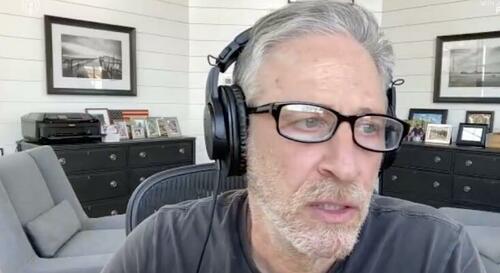 In 2021, Stewart annoyed many on the left by performing a bit on the Late Show, seemingly also to the chagrin of Stephen Colbert, in which he rubbished the notion that the coronavirus originated in a wet market and instead urged people to look at the 'Wuhan coronavirus laboratory'.
Stewart said "There's a novel respiratory coronavirus overtaking Wuhan, China, what do we do? Oh, you know who we could ask? The Wuhan novel respiratory coronavirus lab! The disease is the same name as the lab! That's just a little too weird, don't you think?"
Now Stewart has been once again vindicated, he spoke about the problem with the way questions and debate are continually shut down by the establishment media and by extension late night shows and their leftist mouthpieces.
"First of all, I wasn't waiting on the Department of Energy to weigh in on this," Stewart said on his podcast, explaining that it's completely normal to wonder why a virus emerged from the same place where there is a bio- lab studying coronaviruses.

"The larger problem with all of this is the inability to discuss things that are within the realm of possibility without falling into absolutes and litmus-testing each other for our political allegiances as it arose from that," Stewart continued.
He added, "My bigger problem with that was, I thought it was a pretty good bit that expressed kind of how I felt, and the two things that came out of it were, I'm racist against Asian people, and how dare I align myself with the alt-right."
"The part that I don't like about it is the absolutes and the dismissive, like, 'f*** you, I'm done with you,' 'I will never forgive you, you have crossed an unforgivable line.' 'You've expressed an opinion that is antithetical to mine, or not mine,'" Stewart urged.
Watch:
Today @JonStewart talks to some of our staff about the news that the COVID-19 virus may, in fact, have leaked from a lab in China and what it reveals about the problem with the media narrative machine. Full episode drops Wednesday on @ApplePodcasts pic.twitter.com/tsaLUYzIRl

— The Problem With Jon Stewart (@TheProblem) February 27, 2023
Related:
*  *  *
Brand new merch now available! Get it at https://www.pjwshop.com/
In the age of mass Silicon Valley censorship It is crucial that we stay in touch. We need you to sign up for our free newsletter here. Support our sponsor – Turbo Force – a supercharged boost of clean energy without the comedown. Also, we urgently need your financial support here.
Loading...