---
Watch Live: Attorney General William Barr Squares Off With House Democrats Over Protests, Russiagate
Watch Live:
*  *  *
Attorney General William Barr is appearing before Rep. Jerry Nadler's (D-NY) House Judiciary Committee on Tuesday at 10 a.m. ET, where he is expected to discuss topics ranging from the ongoing protests over the killing of George Floyd, to the Russia investigation, to his warnings over voter fraud.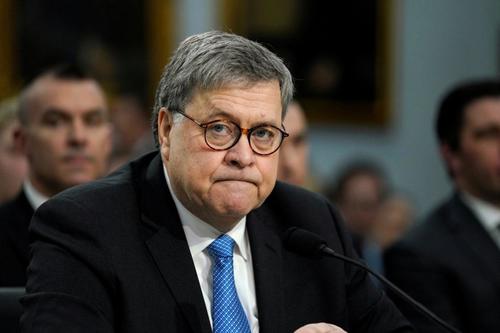 Things may get heated, as Democrats on the Judiciary Committee have levied a series of accusations and criticisms against Barr, including his role in surging federal agents into Democratic-led cities such as Portland, Chicago and Kansas to control violent riots - which should be fun since Chairman Nadler thinks the violence in Portland is a 'myth.'
Republicans on the panel will likely back Barr, whose view his intervention in the protests as considered necessary to protect the police and federal property against 'trained Marxists.'
In his prepared remarks, Barr will warn that "violent rioters and anarchists have hijacked legitimate protests to wreak senseless havoc and destruction" across the country, according to the NYT. 
"We should all be able to agree that there is no place in this country for armed mobs that seek to establish autonomous zones beyond government control, or tear down statues and monuments that law-abiding communities chose to erect, or to destroy the property and livelihoods of innocent business owners."
House Democrats are also expected to drill Barr over his handling of the Russia report - in particular Barr's summary of the Mueller report which Democrats have characterized as misleading.

Since then, the attorney general has directed a criminal prosecutor to scrutinize the F.B.I. inquiry into the Trump campaign's ties to Russia and stepped in to reverse key prosecutorial decisions stemming from the investigation.

Specifically, Democrats will ask about his intervention to recommend a shorter prison sentence for Mr. Trump's longtime friend Roger J. Stone Jr. on seven felony crimes — a sentence Mr. Trump has since commuted — and to drop charges against the former national security adviser Michael T. Flynn even though he had pleaded guilty. -NYT
Flynn withdrew his guilty plea of lying to federal investigators after new evidence revealed the FBI sought to entrap him over his perfectly legal (and expected) conversations with the former Russian ambassador to the United States, where Flynn asked the Kremlin not to overreact to the Obama administration's sanctions over alleged election interference.
Questions over Durham
Republicans on the panel are expected to query Barr over the status of prosecutor John Durham's investigation into actions the Obama administration took against President Trump and his campaign during and after the 2016 US election - which Barr has characterized as 'spying.'