---
Cuomo Insists All NY Nursing Home Deaths "Accurately Reported" In First Briefing Since "COVID Coverup"
Update (1434ET): Gov. Andrew Cuomo's epic President's Day afternoon press briefing has just wrapped up, and just as we suspected, Cuomo wanted to talk about the groundswell of support in the Empire State to finally dethrone a governor who has survived numerous scandals and primary challengers (not to mention 2.5 terms as governor), about as much as reporters wanted to interrupt their holiday weekend to ask him about it.
But in what was perhaps an encouraging sign, Cuomo was ready, and instead of waiting for reporters to ask the question at a post-briefing Q&A, the governor and his team apparently felt this was big enough to strike first, and launched a fusillade of Cuomo disinformation, a mix of "actually running things is hard", "do you remember what life was like a year ago?", with just a pinch of NY's in-the-works reopening plan to keep people interested through the first ten minutes.
Before actually working his way up to his office's claim, Cuomo spun a narrative, which relied on a complicated timeline of the virus's assault on New York State, with some sobbing about Dr. Fauci and NY's top public health official. First, Cuomo tried to distract the press by claiming that the first case of the South African COVID strain had been identified in a New York hospital, but in a patient who had arrived after being "transferred" from neighboring Connecticut.
"To be clear, all deaths in nursing homes and hospitals were fully, publicly and accurately reported," Cuomo said.

"There was a delay in providing the press and the public with providing all that additional information."
After the big denial, Cuomo continued by warning that the problem with the state's nursing homes needs to be fixed before the next pandemic, and that hospitals that have "these issues" must be "improved", or else they might "fail" during the next pandemic. Cuomo also repeated that the DoJ was asking about 'private' for-profit nursing homes, as if to try and shift more responsibility off the state.
The governor concluded that "I understand the public had many questions and concerns..." but Cuomo and his office were so slammed trying to report data to the DoJ, that the state simply didn't have time to give the full picture. This, in Cuomo's terms, irresponsibly created a "vacuum" in which "conspiracy theorists" flourished.
The governor laid it on pretty thick toward the end. Because even with the "best medical professionals and advice on the globe", "the truth is...with all we know...people still die in nursing homes today...we're testing the staff twice a week...you would have to hermetically seal the nursing home." And we definitely don't have the budget for that...not in New York State.
For review, Cuomo's real sin was "not providing the information". That mistake "created a void" in which "conspiracy theorists" flourished and had the gall to question the governor's handling of the pandemic after somebody gave a hot tape of Cuomo's chief of staff talking to legislative leaders in political terms.
"This past year there is a toxic political environment and everything gets politicized," he added, saying that "[t]here is political spin and there are facts."
Cuomo laid it on thick, choking back tears at times and entering the now ubiquitious "whisper mode" made famous by President Biden when he really wants you to know he is emoting.
Cuomo, this is worthy of an Oscar forget the Emmy.

— Chuck Woolery (@chuckwoolery) February 15, 2021
Cuomo, hey I'm dancing as fast as I can. Tell the band to keep up.

— Chuck Woolery (@chuckwoolery) February 15, 2021
During the Q&A, a local TV news reporter tried to sneak in what was probably a planted question, since Cuomo went on to reaffirm that his office prioritized the federal request from the DoJ, though Cuomo insists that both the State Senate and Assembly were made aware of the DoJ request.
* * *
Gov. Andrew Cuomo is holding his first press briefing since his alleged cover-up of New York's nursing home deaths was exposed last week.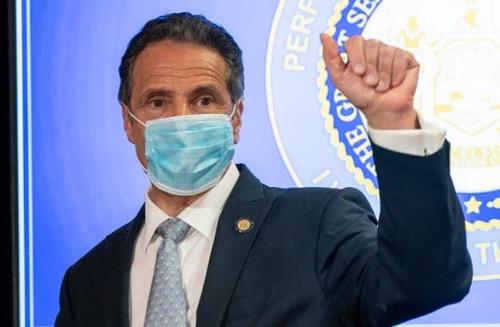 The alleged coverup was first reported by the New York Post. In an audio recording obtained by the Post, Melissa DeRosa, Cuomo's chief of staff, told a small group of Democratic lawmakers that the governor's office "basically froze" when they were asked by the U.S. Department of Justice to turn in the data, because they worried that then-President Donald Trump would use the information as a "giant political football" against them.
"[President Trump] starts tweeting that we killed everyone in nursing homes," DeRosa said during the private call, according to the NY Post.

"He starts going after [New Jersey Gov. Phil] Murphy, starts going after [California Gov. Gavin] Newsom, starts going after [Michigan Gov.] Gretchen Whitmer."
As we detailed earlier, even New York City Mayor Bill de Blasio on Friday called for a "full accounting" of whether Gov. Andrew Cuomo's administration withheld information about deaths from the CCP (Chinese Communist Party) virus in nursing homes across the state.
"It's very troubling. We've got to know more. We now need a full accounting of what happened," de Blasio said on WNYC's "The Brian Lehrer show."
We suspect Cuomo will ignore it in all his prepared remarks and updates but hopefully at least one reporter will have the courage to ask...or can Cuomo somehow 'filibuster' his way through it unscathed?