---
Biden: Attack On Ukraine "Still Very Much A Possibility" - Russian Draw Down "Not Verified"
update(3:58pmET): "If Russia targets Americans in Ukraine, we will respond forcefully." That's the closest President Biden got to threatening a US military response. He also by the close of the relatively brief speech asserted that a Russian attack on Ukraine is "still very much a possibility". This despite the widespread reports of a Russian troop and tank reduction from near Ukraine's border. 
"That would be good, but we have not yet verified that yet," he said of Russia's military announcing earlier in the day that it had withdrawn forces. Biden said, citing US intelligence, that "Our analysts indicate they remain very much in a threatening position" - he further claimed that "150,000 Russian troops" now encircle Ukraine, including from inside Belarus. 
"If Russia attacks Ukraine, it'll be met with overwhelming international condemnation. He said such action will prove to be "a self-inflicted wound" - but importantly, the president underscored, "I will not send American servicemen to fight in Ukraine." 
However, he added to this that if NATO soil comes under attack, this would trigger Article 5, and the US military would respond forcefully. "We will defend every inch of NATO territory...," Biden said. He called the West "united and galvanized" in the face of the threat, further vowing hard-hitting sanctions, including "export controls...methods we did not pursue when Russia took Crimea in 2014." He also vowed the US would ensure the Nord Stream 2 pipeline "will not happen" - though without saying how this would be possible. 
Though short, Biden's speech triggered the biggest sell program of the day...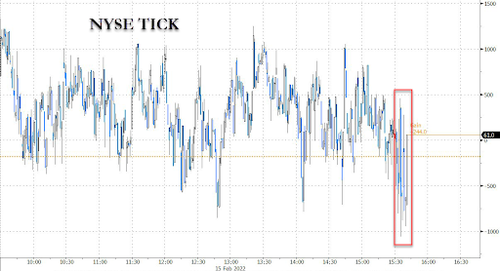 * * *
Amid a barrage of conflicting headlines, President Biden will address the world and clear everything up about Russia-Ukraine-NATO-Nord Stream 2 and so on, in what The White House calls "brief remarks" this afternoon.
According to the White House statement:
In the afternoon, the President will give brief remarks providing an update on Russia and Ukraine.

He will reiterate that the United States remains open to high-level diplomacy in close coordination with our Allies, building on the multiple diplomatic off-ramps we and our Allies and partners have offered Russia in recent months.

The United States continues to believe diplomacy and de-escalation are the best path forward, but is prepared for every scenario.
Here's the state of play from the last few days...
President Biden's administration officials reportedly told PBS:
"the U.S. believes Putin has decided to invade Ukraine and communicated those plans to the Russian military."
President Zelenskiy:
"There has been too much information about a full-scale war with Russia – even specific dates have been announced. We understand there are risks. If you have any additional information regarding the 100 percent guaranteed invasion of Ukraine by Russia on 16 February, please give it to us,"
President Putin stressed that:
"of course" he does not want war to break out in Europe and confirmed Tuesday that he had decided to withdraw some troops from the border with Ukraine and was prepared to re-enter security negotiations with the U.S. and NATO.
While it may be a little early (and very disappointing for the neocons), we would expect a modest 'victory lap', as we laid out last week, the administration set the stage for the Biden version of the Cuban Missile Crisis.
If Putin doesn't invade – because he can get what he wants without doing so – Biden can claim this as a great victory. He would be the man who faced down Putin and got him to back away from all-out war.

If Putin does invade - goaded into it perhaps by the incessant establishment pressure - Biden gets to gloat that he was right about Putin and Russia looks like a bully to the world, making it considerably harder for China's Xi to stand by Putin's side
Notably, Jen Psaki said that Biden will not announce any new policy on Ukraine in today's remarks.
The question is - will the president crank the rhetoric back up (imminent invasion) or tamp it down and recognize Putin's retreat?
Watch Live (due to start at 1530ET):