---
Musk Warns Biden-Backed 40% UAW Pay-Hike Risks Big 3 Bankruptcy (Again)
Update (1450ET):
Elon Musk is correct. The risk of UAW's 40% pay hike for its 150,000 members at the "Big Three" US automakers - General Motors, Ford, and Chrysler - could send them spiraling into bankruptcy once again. 
Musk said while responding to our post, "They want a 40% pay raise *and* a 32-hour workweek. Sure way to drive GM, Ford, and Chrysler bankrupt in the fast lane."
They want a 40% pay raise *and* a 32 hour workweek. Sure way to drive GM, Ford and Chrysler bankrupt in the fast lane.

— Elon Musk (@elonmusk) September 26, 2023
The last time the automotive industry was in a crisis was when Biden was vice president. During that time, automakers received a bailout from then-President Obama.
Even the corporate press has had to admit that Tesla benefits from the union chaos in Detroit. 
*   *   * 
Update (1335ET): 
A reporter asked Biden: "Mr. President, should the UAW get a 40% [pay] increase?"
The president responded: "Yes." 
Here is the moment when President Biden expressed agreement that the UAW's demands for a 40% pay hike over a new four-year contract with automakers should be considered.
"Mr. President, should the UAW get a 40% [pay] increase?"

BIDEN: *confused* pic.twitter.com/Ya8LbCOimv

— RNC Research (@RNCResearch) September 26, 2023
To confirm we understood what bumbling Biden said in the video, Bloomberg also verified this.

We have noted that the auto industry workforce is set to contract in the years ahead under Biden's Green New Deal as manufacturers pivot towards EVs that require fewer workers. 
Also, Morgan Stanley's auto strategist, Adam Jonas, recently warned clients that a surge in labor inflation among automakers could complicate the math for onshoring production in the US.
But beyond the 1-time losses, Jonas says he is much more concerned about the potential for 30 to 40% labor inflation over the life of the next 4-year contract and how the domestic auto companies may recalibrate their ROIC and payback math for EV onshoring. The MS strategist thinks the outcome will be greater austerity and focus on the ICE run-off (that, however, would make many more workers redundant as EVs require far less mechanical intervention than ICEs).
One River CIO, Eric Peters, said if UAW Boss Shawn Fain's demands are met, the average hourly wage for union members would be north of $136. 
Detroit automaker unionized labor costs, including wages and benefits, are estimated at an average of $66/hour. That compares with $45 at Tesla, which isn't unionized, and $55 for Asian automakers.

Meeting all of Fain's initial demands would boost average hourly labor costs to an estimated $136/hour.

Fein claims to be matching the roughly 40% compensation gains automaker CEOs have realized in the past decade. Ford's CEO made $22mm last year. Stellantis's $24.8mm. GM's nearly $29mm.
... and another problem: the consumer will have to pay even higher prices after automakers pass-through all the wage increases. 
Automakers will immediately pass through all wage increases to car prices. https://t.co/COl9DOTVgq

— zerohedge (@zerohedge) September 26, 2023
It's unprecedented for the president to walk the picket line. Presidents historically avoid strikes and usually act as mediators. 
Does the White House even understand how inflation is created? 
*   *   * 
Update (1308ET):
President Biden and UAW Boss Shawn Fain arrive at picket lines. 
*   *   * 
Update (1230 ET):
Biden lands in Detroit. 
🇺🇸Air Force One lands at Detroit for President Biden's trip to Michigan to visit UAW members on strike at the picket line#UAWStrike #UAWSolidarity pic.twitter.com/yQ9QEHjyQT

— Attentive Media (@AttentiveCEE) September 26, 2023
No EVs in Biden's motorcade. 
President Biden has arrived in Detroit, to join a UAW picket line. pic.twitter.com/rnjWGAZwhm

— Matt Viser (@mviser) September 26, 2023
*   *   * 
On the twelfth day of strikes, President Biden plans to stand with striking United Auto Workers members on the picket lines in Wayne County, Michigan, a day before a scheduled visit to the state by former President Trump. 
Reuters said Biden will join UAW members in Wayne County around 1200 ET on Tuesday. Sources said UAW boss Shawn Fain is also expected to join the most pro-union president in history. 
On Monday, Biden said, "I think the UAW gave up an incredible amount back when the automobile industry was going under [GFC]. They gave everything from their pensions on, and they saved the automobile industry." 
"Now that the industry is roaring back they should participate in the benefits," the president added.
Remember, Biden was VP when former President Obama bailed out the auto industry over a decade ago. 
Erik Loomis, a University of Rhode Island professor and an expert on labor history, told AP News that Biden standing at the picket lines is "absolutely unprecedented. No president has ever walked a picket line before." 
Loomis said presidents historically "avoided direct participation in strikes. They saw themselves more as mediators. They did not see it as their place to directly intervene in a strike or in labor action."
I'm out at the Ford Assembly Plant in Wayne, MI awaiting Biden's appearance to join UAW strikers. pic.twitter.com/NEfLAT9rri

— Tessa (@OsborneTessa) September 26, 2023
Coming up live from Michigan UAW Local 900 as autoworkers continue their strike and are joined today and tomorrow by special guests, President Biden today and former President Trump tomorrow. pic.twitter.com/aDphG29Ywt

— Kellie Meyer (@KellieMeyerNews) September 26, 2023
Union Auto Workers (#UAW) strike against the big three automakers: Ford, Stellantis, and General Motors in Wayne, Michigan.
President #Biden is expected to arrive soon, but the exact location where he will be is unknown. pic.twitter.com/48VE4ak5eX

— Madalina Vasiliu (@mada7ina) September 26, 2023
The ongoing strike has yet to reach a resolution for a new labor agreement between the union and Detroit's Big Three: Ford, GM, and Stellantis. UAW is demanding approximately a 40% wage increase over a new four-year contract along with a 32-hour work week, while the automakers are proposing around 20%.
Ford announced on Sunday that there were still "significant gaps to close" in negotiations with the union. A recent Deutsche Bank note shows the union and automakers are still far apart.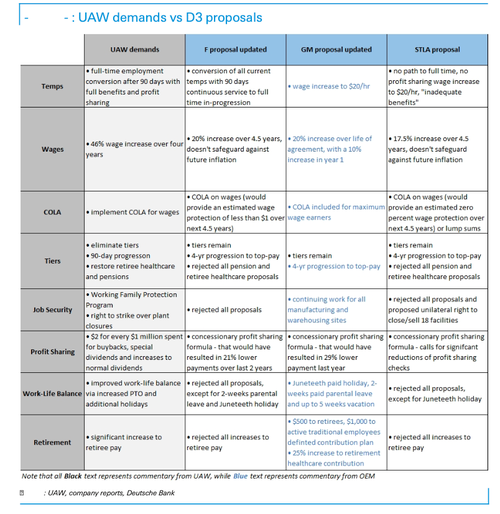 The latest data from The New York Times shows about 12% of the 150,000-member union is on strike, equivalent to about 18,300 workers. Strikes are nationwide.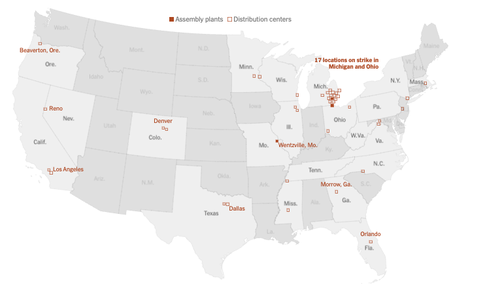 And on Wednesday, Trump is expected to address hundreds of workers at a non-union auto supplier in a Detroit suburb. 
Meanwhile, there are strikes at Tesla - the most American-made automobile. 
*  *  * 
Watch Live:
Loading...