---
Trump Says "Never Thought It Could Happen In America" After Historic "Fake Case" Arraignment
(Update 1900ET): Following his Tuesday arraignment in New York in front of a "Trump-hating judge," former President Donald Trump went hard against his enemies in front of a crowd at Mar-a-Lago.
"This fake case was brought only to interfere with the upcoming 2024 presidential election and it should be dropped immediately," said Trump. "I never thought anything like this could happen in America."
"It's an insult to our country as the world is already laughing at us"

Donald Trump LIVE after the indictment charges. pic.twitter.com/FcgtPJAzHi

— Mythinformed (@MythinformedMKE) April 5, 2023
"The only crime that I've committed is to fearlessly defend our nation from those who seek to destroy it," said Trump, before going off on Manhattan DA Alan Bragg.
"The criminal is [Alvin Bragg] … he should be prosecuted, or at a minimum, he should resign," he continued.
DONALD TRUMP: "The only crime that I've committed is to fearlessly defend our nation from those who seek to destroy it."

pic.twitter.com/gAOTgvABuS

— ALX 🇺🇸 (@alx) April 5, 2023
And in perhaps the best line of the night; "I have a Trump hating judge with a Trump hating wife and family, whose daughter worked for Kamala Harris and now receives money from the Biden/Harris campaign...It's right out of the old Soviet Union. That's where we are!"
TRUMP: "I have a Trump hating judge with a Trump hating wife and family, whose daughter worked for Kamala Harris and now receives money from the Biden/Harris campaign...It's right out of the old Soviet Union. That's where we are!" pic.twitter.com/XYF0gxdZyW

— Townhall.com (@townhallcom) April 5, 2023
Watch Trump's entire remarks below.
*  *  *
(Update 1900ET): As announced earlier on Tuesday, former President Trump is giving a press conference from his Mar-a-Lago home in Florida following his indictment over hush money allegedly paid to former porn star Stormy Daniels in the runup to the 2016 US election.
Watch live:
Take a shot every time he says 'witch hunt', and two shots every time he calls the Manhattan DA 'Fat Alvin."
You know you've got a bad case when...
John Bolton on Alvin Bragg's indictment: "This is even weaker than I feared it would be and I think it's easily subject to being dismissed or a quick acquittal for Trump."pic.twitter.com/K8Cbw8d6Ru

— ALX 🇺🇸 (@alx) April 4, 2023
*  *  *
(Update 1730ET): Former President Donald Trump pleaded not guilty on Tuesday to 34 felony counts of falsifying business records in the first degree, according to unsealed court records.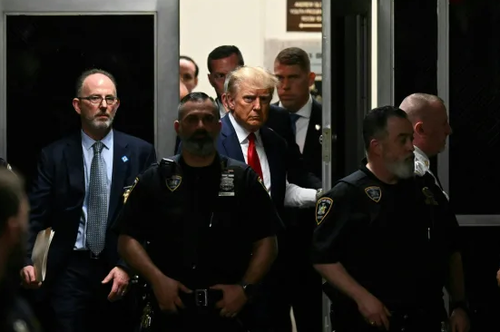 The felony charges were announced by Manhattan Judge Juan Merchan (whose daughter worked on the Biden-Harris campaign) - marking the first former president in US history to be criminally charged.
"The evidence will show that [Trump] did so to cover up crimes related to the 2016 election," said Manhattan District Attorney Alvin Bragg, who refused to cite the "underlying crimes" related to the books and record counts "because the law does not so require."
Alvin Bragg, sometimes called "Fat Alvin", built his case off of copying and pasting the same charge 34 times around "concealing another crime" in order to make it a felony but didn't include the crime being covered up in the indictment because "the law does not so require" pic.twitter.com/6AOvqRkYv2

— ALX 🇺🇸 (@alx) April 4, 2023
Trump was arrested at around 1:35 p.m. ET and appeared before Merchan, who barred the media from broadcasting the proceedings. Photographers were allowed to enter the courtroom prior to the proceedings began, before they were told to leave.
CBS's Scott MacFarlane described the courtroom "as stuffy, warm, and feeling like an old middle school, not like ornate federal courtrooms."
Trump now heads back to his Mar-a-Lago home in Florida, where he'll hold a press conference. Merchan notably warned Trump not to make social media posts that could foment unrest among his supporters, and also expressed concern that Trump could divulge sensitive information online. Trump's attorneys, however, told reporters that would not happen.
The case is scheduled to continue on December 4th.
Even Mitt Romney thinks this is bullshit.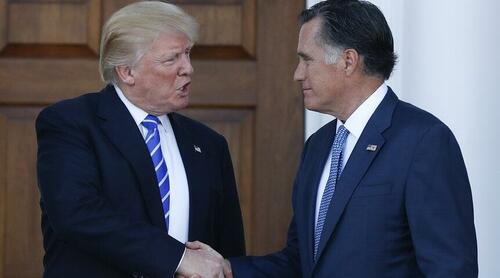 "I believe President Trump's character and conduct make him unfit for office. Even so, I believe the New York prosecutor has stretched to reach felony criminal charges in order to fit a political agenda," said the longtime Trump foe.
House Speaker Kevin McCarthy (R-CA) also commented, tweeting: "Alvin Bragg is attempting to interfere in our democratic process by invoking federal law to bring politicized charges against President Trump, admittedly using federal funds, while at the same time arguing that the peoples' representatives in Congress lack jurisdiction to investigate this farce."
Stay tuned for Trump's presser.
*  *  *
Update (1535ET): The Manhattan District Attorney's office is holding a press conference following the indictment of former President Trump on 34 felony counts of falsifying business records - charges which federal prosecutors declined to pursue.
Watch:
During the presser, Manhattan DA Alvin Bragg was asked about the underlying crime, which isn't in the indictment. Bragg responded that several laws are at play, including election law 17-152. As the NYT's Jonah Bromwich notes, "One of the unusual things about this case is the application of a state election law to a federal election and Trump's lawyers are sure to seize on that in their challenges to the prosecution."
"True and accurate business records are important everywhere," said Bragg, adding that they are more important in Manhattan, the financial center of the world.
Of note, the charges against Trump are all class-E felonies, the lowest category of felony offense in New York, which carry a maximum prison sentence of four years. The judge in the case says he will not impose a gag order at this time, but warned Trump not to make social media posts which could 'foment unrest.' the Associated Press reports.
And according to the NY Times, "Under New York law, falsifying business records is generally a misdemeanor. But prosecutors can escalate the charge when they believe a person falsified business records in order to commit another crime or hide the committing of a crime."
The next in-person hearing for Trump has been scheduled for December 4th, per CNN.
Read the indictment below:
For reference:
The relevant New York statutes. pic.twitter.com/0XMNEJmZl9

— Sahil Kapur (@sahilkapur) April 4, 2023
*  *  *
Update (1445ET): After surrendering himself for arrest at the courthouse in Manhattan around 1:30 p.m. ET, former President Trump sat for his arraignment, where he pleaded not guilty to 34 felony counts of falsifying business records over his alleged role in hush money payments to two women toward the end of his 2016 presidential campaign.
Former President Donald Trump in court hearing the charges against him. #FPOTUS #Trump pic.twitter.com/A4hhbiPdYJ

— Edward Lawrence (@EdwardLawrence) April 4, 2023
Confirmed now that Trump's felony charges are under the theory that business record fraud was done to coverup campaign finance violation

Key info media is ignoring: the so-called campaign finance fraud charge is one the feds explicitly declined to prosecute him for

— Saagar Enjeti (@esaagar) April 4, 2023
The Manhattan DA's office will hold a press conference after the arraignment.
Meanwhile...
So let's parse this out: She tries to extort Trump for "hush money". He pays, which is not a crime. She violates the agreement, going public, and he sues. She looses, and has to pay damages.
But 7 years later, an ambitious and partisan DA, who's policy is to downgrade felonies…

— Barry Jacobsen (@Barry4the44th) April 4, 2023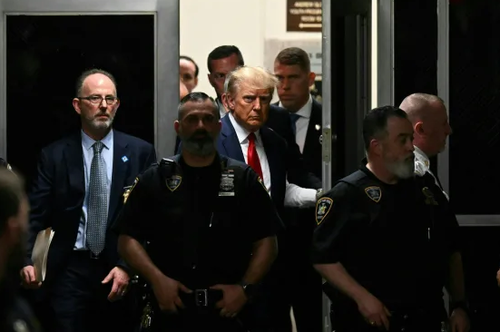 *  *  *
Update (1346ET): Trump has arrived at the Manhattan courthouse for his arraignment.
BREAKING: Donald Trump arrives at the courthouse to be arraigned.

pic.twitter.com/yKay67pEuG

— ALX 🇺🇸 (@alx) April 4, 2023
*  *  *
Former President Trump is being arraigned today on a reported 34 felony counts for falsification of business records in connection with a $130,000 payment made to former adult film star Stormy Daniels (real name Stephanie Clifford).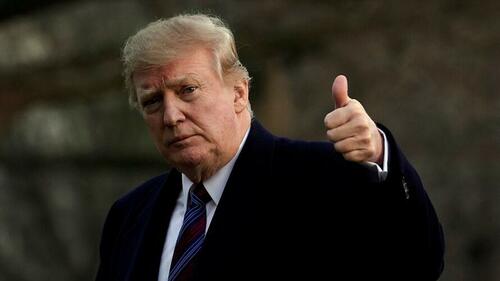 Trump's arraignment hearing is set to begin at 2:15 p.m. ET. According to Yahoo's Michael Isikoff (of Steele Dossier hoax peddling fame), Trump won't be put in handcuffs, placed in a jail cell, or be subjected to a mugshot, after Manhattan DA Alvin Bragg's office consulted with the Secret Service and New York City court officials.
The stated reason for handcuffing defendants is on the grounds that the suspect might be a flight risk or a threat to the district attorney or court personnel, neither of which were judged to be relevant to the handling of a former president protected at all times by a phalanx of Secret Service agents. -Yahoo
On Monday afternoon Trump landed at New York's LaGuardia Airport, after which he spent the night at Trump Tower. His attorneys are expected to immediately file a motion to dismiss. 
According to Trump attorney Joe Tacopina, rumors that the judge in the case will impose a gag order on Trump are false.
"Can't be. Won't happen. I don't believe anyone is even looking for that. That would really set ablaze the passions and the tempers that already have been inflamed by this case. People view this as a political persecution," he said.
Watch live:
In response to the rumor, Rep Jim Jordan (R-OH) issued a statement saying that the House Judiciary Committee is "deeply concerned" over what would amount to an "unconstitutional gag order."
On Monday Tacopina noted that Trump is dominating polls among GOP primary contenders, and said that Americans are growing "frustrated" with the case against the former president.
"They are now understanding that the weaponization of the justice system is a real thing. Attempting to gag a United States citizen that is a defendant, not a lawyer, not a litigant but a defendant in the case, especially—that's a First Amendment violation obviously. It has to be balanced against a right to a fair trial," he said. "But imagine putting a gag on Donald Trump when he's the frontrunner for the Republican Party for the presidential office," Tacopina continued.
"Imagine during the campaign he's told, you know, 'I can't speak about the case.' When people ask him questions, he has to just say, 'sorry, I have a gag order.' Obviously, that's not going to happen."
For an extremely cogent analysis from Jonathan Turley via his blog, see below (emphasis ours);
The 2024 presidential campaign technically began months ago with the first announced candidates. Yet April 4 will be "Super Tuesday" for America's first carceral presidential campaign, with the arrest and arraignment of Donald Trump. With the exception of the socialist (and incarcerated) Eugene Debs in 1920, we have not faced the prospect of a president who could be elected with both a term of office and a term of imprisonment.
The New York indictment of Trump has been widely criticized as politically motivated and legally flawed. Manhattan District Attorney Alvin Bragg boasted during his 2021 campaign about being best suited to go after Trump, and he is making good on his boast with a highly dubious bootstrapped legal theory.
The New York indictment will face considerable challenges. Those challenges will likely take some time to resolve, and if this case follows the customary schedule of criminal matters, it still may be pending when Americans go to the polls to select the next president in 2024.
In addition, a Georgia grand jury reportedly has finished its work on other charges against Trump. Weeks ago, Emily Kohrs, the forewoman of that special grand jury, gave a series of bizarre giggling interviews about nailing Trump. It is a mystery, given Kohrs' apparent confirmation of pending charges, why Fulton County District Attorney Fani Willis has held back on an indictment.
Although stronger than the Manhattan case, the Georgia case has its own problems but could make it to trial because those problems are largely fact questions generally left to jurors. But it too would likely be pending by Election Day 2024.
The most serious threat among the potential cases is being developed by Justice Department special counsel Jack Smith. His investigation of Trump's role in the Jan. 6, 2021, Capitol riot is unlikely to result in charges and, if it does, is unlikely to survive challenges on First Amendment grounds. His investigation of the Mar-a-Lago classified-documents controversy presents a far more established — and, frankly, easier — route for prosecution. From its earliest filings, the Justice Department maintained there is evidence of obstruction and false statements — claims that it could use to distinguish any prosecution from the unlawful possession of classified material by President Joe Biden or former Vice President Mike Pence.
Smith is under a tight schedule if he wants to charge Trump, though. Since the Justice Department (incorrectly in my view) maintains that a sitting president cannot be indicted, Smith would have to charge and, ideally, try Trump before Election Day. Indeed, the Justice Department strives to avoid any major legal steps that might impact voting near to an election — a period that could stretch back to the late summer of 2024.
What this means is that Trump could face as many as three sets of criminal charges in three different jurisdictions as he campaigns for the presidency. He would likely seek accommodations from courts to delay any trial during the campaign.
Whether or not Trump can delay a trial, much of 2024 will be focused on carceral rather than political issues. Trump has long claimed that Democrats are weaponizing the criminal justice system against him and other Republicans. Bragg has given him the case positive for proving that allegation, especially since Bragg ran for office on his ability to find a criminal charge against Trump.
The question is what happens if any of these efforts succeed.
I previously raised the prospect of an actual indictment in converting the election into a debate for presidential self-pardons. Article II of the Constitution states that a president may "grant reprieves and pardons for offenses against the United States, except in cases of impeachment." There is no language specifying who may or may not be the subject of a pardon, and presidents have abused the pardon power to protect political allies and even family members.
Numerous legal analysts have argued those constitutional provisions "make no sense if the president could pardon himself." Yet it seems highly doubtful that courts would agree. Despite the massive gravitational pull of Trump on the legal analysis of many pundits, there is nothing in the Constitution to exclude presidents alone from pardon eligibility. The Supreme Court stated in Schick v. Reed that "the pardoning power is an enumerated power of the Constitution and … its limitations, if any, must be found in the Constitution itself."
While a newly elected Trump could only pardon himself for the federal crimes, it is the federal case that likely represents the greatest threat to him. Moreover, the two state cases would add to Trump's narrative of facing 'political prosecutions' from a 'weaponized' legal system on every level. Trump often campaigns on just such a primal level. He knows that a man chased by a dog can spark public outcry — but a man chased by a pack of dogs can spark public outrage.
It is not simply the election that could take a carceral turn, however.
What would happen if Trump were elected but convicted in either state case? Such a trial would likely occur after the election. Even if courts extended a trial until after the 2024 election, it would be difficult to delay it for four years.
The last time a president faced the threat of a criminal trial was in 1872, when Ulysses S. Grant was arrested for speeding in his horse-drawn carriage in Washington.
I have long maintained that a sitting president can be indicted and tried. Almost 25 years ago, I wrote an academic work, "'From Pillar to Post': The Prosecution of Sitting Presidents," that challenged immunity theories protecting presidents. I do not believe the indictment of a president or former president is a national tragedy. To the contrary, it is the ultimate affirmation that no one is above the law.
However, that doesn't mean it wouldn't get weird if Trump loses in court but wins in the election.
If Trump were convicted in a state proceeding, it would not bar him from running — or serving — as president. A state judge could grant probation or an alternative sentence to avoid imprisonment. Moreover, appeals on the issue of incarceration could take years to address a state order conflicting with the performance of a federal function. Once that time was exhausted, a court could order any incarceration to be delayed until after the end of the presidential term, since Trump could not be elected a third time.
We may have to face one of these scenarios. The question is whether voters may not only accept this prospect but some might even invite it. Regardless of how it works out, this election is about to take a carceral turn.
Elections often raise the politics of crime — but in this election, it may be hard to separate the politics from the crime.
Jonathan Turley is the Shapiro Professor of Public Interest Law at The George Washington University. Follow him on Twitter @JonathanTurley.
Loading...