---
Watch: MSNBC Panel Says That Criticising George Soros In Any Way Is "Dangerous"
Authored by Steve Watson via Summit News,
During a discussion on the potential Trump indictment, an MSNBC panel claimed that Trump supporters, and anyone else for that matter, are "dangerous" for criticising George Soros.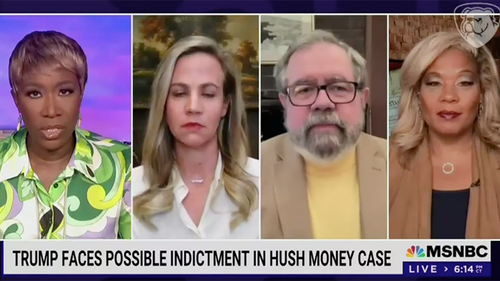 Perpetual race baiting grifter Joy Reid turned to former CIA officer Tracy Walder, and said "The fact that they keep throwing George Soros' name, we've talked a lot in our show meetings, is it definitely feels like a dog whistle that is dangerous."
Walder replied, "It absolutely feels like a dog whistle that's dangerous."
She continued, "Look, most of these groups, the Oath Keepers, Boogaloo Boys, Proud Boys, they all subscribe to what you are all referring to as the great replacement theory."
"This is why we see these spikes in racism and anti-semitism," and "they are ascribing to this belief and it's stoking this division," Walder added. 
She then suggested that "Trump has for multiple years now called for a civil war."
There were no actual facts provided as to why criticising George Soros' manipulation of U.S. politics and culture is racist.
Watch:
Of course, Joy Reid and MSNBC are going to propagandise for Soros, given that he pumps millions into Democrat election campaigns, as well as "black-led justice organizations".
Soros Has Pumped $50 MILLION (So Far) Into 2020 Democrat Election Campaigns
Soros Foundation Announces It Is 'Doubling Down' On Funding "Black-led Justice Organizations"
Is journalist Glenn Greenwald a dangerous racist for pointing out how Soros continually seeks to control the reality narrative?
All three of these billionaires -- Soros, Hoffman and Omidyar -- fund groups and outlets that aggressively spread disinformation. The idea that *they* are going to use their vast wealth to police the internet in the name of keeping us safe is laughable.https://t.co/vuBB5Gj4VV

— Glenn Greenwald (@ggreenwald) October 26, 2021
Since employees of media corporations instructed their small but loyal herds to ignore the #TwitterFiles, they may not know that Bill Kristol already pulled this scam with "Hamilton68": what he claimed was a secret list of "pro-Kremlin accounts" that shaped countless headlines. pic.twitter.com/Fk9Cu8vLQQ

— Glenn Greenwald (@ggreenwald) March 21, 2023
As I've said many times, Omidyar never once interfered in the editorial output of TI. I constantly attacked his pet causes and beliefs, and he not only never impeded it but told me I was free to continue.

The problem is managers know why he funds, and they adapt to his beliefs.

— Glenn Greenwald (@ggreenwald) March 21, 2023
The reason TI degraded into an outpost of DNC talking points and Russiagate insanity isn't because Omidyar demanded it. It's because top editors (Betsy Reed, Roger Hodge) got huge salaries and were petrified they'd lose it unless they promoted his views. That's how it works.

— Glenn Greenwald (@ggreenwald) March 21, 2023
*  *  * 
Brand new merch now available! Get it at https://www.pjwshop.com/
In the age of mass Silicon Valley censorship It is crucial that we stay in touch. We need you to sign up for our free newsletter here. Support our sponsor – Turbo Force – a supercharged boost of clean energy without the comedown. Also, we urgently need your financial support here.
Loading...