---
Watch: Rand Paul Is Engaged In An All-Out-War Against Fauci
Authored by Steve Watson via Summit News,
Senator Rand Paul is determined to take down Anthony Fauci, with his latest salvo against the former NIH head coming in the form of confirming that Fauci has a government funded security detail including the use of limousines, despite the fact that he is supposedly retired with vast personal wealth.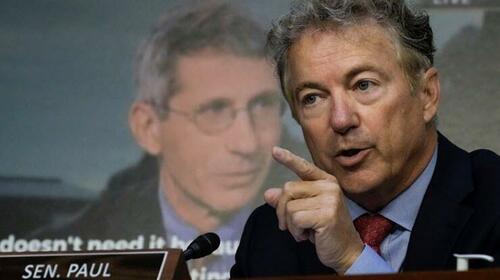 Appearing on Jesse Watters' show Monday, Paul explained how shady Fauci's taxpayer reimbursed perks are.
"HHS (U.S. Department of Health and Human Services) actually came back to us and said they haven't been paying for it since January. But then we discovered that Fox did a Freedom of Information Act and a judge forced them to say that, well, while HHS wasn't directly funding it, the U.S. Marshals were funding it," Paul noted.
Joining @JesseBWatters on @FoxNews tonight to discuss how your tax dollars are STILL being spent on Fauci! https://t.co/YkOMNtpjWU

— Rand Paul (@RandPaul) July 17, 2023
Paul continued, "We asked the government, 'are you funding his limo, and driver, and security detail,' and they say, 'Oh, we're not doing it, but oh, somebody else is doing it, and we're reimbursing them?'"
"It's a terrible example of the government lying to its representatives and to the people. But also, why is a retired guy, the only retired official I know of that gets this kind of treatment is a former president," Paul continued, urging "I have no idea why this bureaucrat still has a limo driver security detail."
"He's a rich man. His wealth increased by 30% during the pandemic," Paul pointed out, also pondering whether Fauci has access to pro bono legal representation in retirement, asserting that he will need it soon.
Watch:
Paul has vowed to never stop pushing to expose the reality of COVID's origin and funding.
Last week's release of an email in which Fauci confirms that research in Wuhan was gain-of-function adds to an email where his assistants label it GoF as well. Likely nothing more conclusive than catching a liar lying with his own words!

— Rand Paul (@RandPaul) July 18, 2023
I will continue to exhaust every option I possibly can to get answers on COVID origins and funding.https://t.co/tLYMLTgkhK

— Rand Paul (@RandPaul) July 17, 2023
Most importantly, we deserve answers and accountability because we don't have enough of either. More coming soon…

— Rand Paul (@RandPaul) July 17, 2023
Virologist and Fauci crony, Kristian Andersen, in public argued that COVID came from nature but in private emails said the opposite:

"The main issue is that accidental escape is in fact highly likely–it's not some fringe theory."

Millions died and they all lied.…

— Rand Paul (@RandPaul) July 14, 2023
👀 In case you needed any more proof Fauci orchestrated a coverup…

Now ask yourself why… https://t.co/702YL7Lppz

— Rand Paul (@RandPaul) July 13, 2023
*  * *
Brand new merch now available! Get it at https://www.pjwshop.com/
In the age of mass Silicon Valley censorship It is crucial that we stay in touch. We need you to sign up for our free newsletter here. Support our sponsor – Turbo Force – a supercharged boost of clean energy without the comedown.
Also, we urgently need your financial support here.
Loading...