---
Watch: Romney Calls Bottomless Ukraine Aid "The Best National Defense Spending We've Ever Done"
Authored by Steve Watson via Summit News,
Republican Senator Mitt Romney gave a big shout out to the Biden Administration Friday, posting a video in which he claims that sending billions in taxpayer dollars to Ukraine is "the best national defense spending I think we've ever done."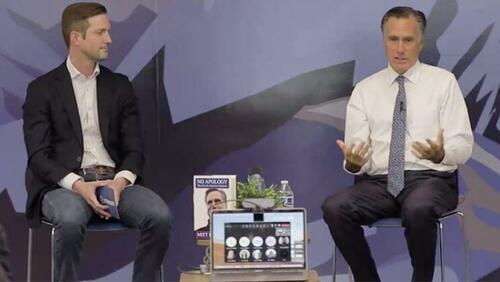 While the economy at home is dismal, Romney claimed that a "very small amount" of money that the U.S. is sending to Ukraine, more than $200 billion and counting, is benefitting all Americans.
WAR MONGERS GONNA WAR MONGER

— Oh Bette 😈 (@bette_oh) August 26, 2023
"The single most important thing we can do to strengthen ourselves relative to China is to see Russia defeated in Ukraine. Because they are allies, and Russia being weakened weakens their ally, China," Romney said.
"Being able to take an amount which equals what about 5 percent of our military budget, but actually less than 5 percent of our military budget each year to help the Ukrainians, is about about the best national defense spending I think we've ever done," Romney claimed.
He added "We're losing no lives in Ukraine," while not mentioning the hundreds of thousands of dead Ukrainians.
He continued, "the Ukrainians are fighting heroically against Russia that has 1,5000 nuclear weapons aimed at us. It's like, so, we're diminishing and devastating the Russian military for a very small amount of money relative to what we spend on the rest of defense."
"It is very much in America's national interest in our national interest to help Ukraine. And the best thing we can do for America is to see people who have nuclear weapons and that is getting weaker," Romney concluded.
Residents of the devastated Lahaina inMaui sure don't think that sending money to Ukraine is the best form of national defense spending:
Lahaina resident: "I think Biden should take his $700 and get back on the fu*king plane."

pic.twitter.com/d3mRQaQ2uA

— The Post Millennial (@TPostMillennial) August 25, 2023
*  *  *
Brand new merch now available! Get it at https://www.pjwshop.com/
In the age of mass Silicon Valley censorship It is crucial that we stay in touch. We need you to sign up for our free newsletter here. Support my sponsor – Summit Vitamins – super charge your health and well being.
Also, we urgently need your financial support here.
Loading...