---
Watch: Trump Vows To "Totally Obliterate The Deep State" In "The Final Battle"
Authored by Steve Watson via Summit News,
Speaking to a huge crowd in Iowa Monday night, President Trump promised to "totally obliterate the deep state," and described his push for a second term as "the final battle."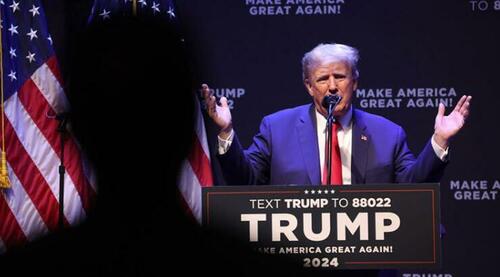 "What's happening is very simple, our enemies are desperate to stop us because they know we are the only ones who can stop them," Trump declared.
"I will fire the unelected bureaucrats who have weaponised our justice system," Trump continued, adding "IO will direct the Justice Department to go after Marxist prosecutors offices to make them pay for their illegal race based enforcement of the law."
"Many racists are there," Trump further noted.
🚨President Trump Speaking in Davenport IA: "I will totally obliterate the DEEP STATE." 👏👏🇺🇸pic.twitter.com/izP4ifLZ96

— TkMel 💜🇺🇸💜 (@TkMelly) March 14, 2023
"If you put me back in the White House, the reign of the corrupt Washington establishment will be over, I guarantee you," Trump also told the crowd.
President Trump in Davenport, Iowa: "2024 is the final battle." pic.twitter.com/9m5kayOYsC

— MAGA War Room (@MAGAIncWarRoom) March 14, 2023
Trump also spoke about breaking up the Department of Education:
Trump says in Davenport, IA he's going to break up the Department of Education and send the resources, and segments back to the individual states!! 🔥 🔥 pic.twitter.com/ZXuXt7r35s

— TrashDiscourse🗑️ (@ThaWoodChipper) March 14, 2023
While many were enthusiastic about Trump's words, others noted that we've heard it all before.
Broken record. He had his chance.🙄

— ✶ Eʅυȥιꪜꪜ ✶ (@2AWoman) March 14, 2023
Why didn't he do this the first time around? I voted for him 2x but please… run the GOP and let's find someone who's will to destroy the deep state vs talk abt it. DACA, big beautiful wall, etc etc… not done in 4 yrs

— RedPillJo (@RedPillJo) March 14, 2023
Those are wonderful words, but how does he expect to have any more influence over the DOJ than he did the first time?

— Brad (@bafrienddc) March 14, 2023
Sounds great, but he has to start picking better people in his administration. I suggest not just people who tell him how great he is, then move to undermine him. His weakness for flattery is his own undoing.

— We the People (@reducegovt) March 14, 2023
*  *  *
Brand new merch now available! Get it at https://www.pjwshop.com/
In the age of mass Silicon Valley censorship It is crucial that we stay in touch. We need you to sign up for our free newsletter here. Support our sponsor – Turbo Force – a supercharged boost of clean energy without the comedown. Also, we urgently need your financial support here.
Loading...