---
Watch: White Woman In Gorilla Mask Assaults Larry Elder With Eggs
Larry Elder was assaulted on Wednesday in Los Angeles by a bicyle-riding woman wearing a gorilla mask.
The woman threw at least one egg towards the black gubernatorial challenger to Gavin Newsom, while verbally assaulting Elder and his staff.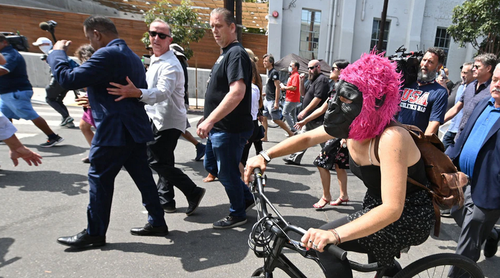 The woman's cohorts then became physically aggressive - shoving Elder's staff, slapping them, and hitting them with more eggs - before one begins ranting "Democrats control everything!"
Watch:
This Larry Elder assault video is deeply concerning.

His attacker wears a monkey mask while the others call his staff "boy". Then what looks like a reporter laughs. Then a man screams "DEMOCRATS RUN EVERYTHING!"

Vengeful totalitarianism. pic.twitter.com/bWEUYZndUt

— Raheem J. Kassam (@RaheemKassam) September 8, 2021
The party of the KKK shows its true colors once again.
The Left pic.twitter.com/dZRJVnpdmq

— Jack Posobiec 🇺🇸 (@JackPosobiec) September 8, 2021
If white Republicans had done to a black Democrat running for office what white Democrats did to Larry Elder, you can bet major parts of the country would be afflicted by burning and looting by mostly peaceful protesters right now.

— Rising serpent 🇺🇸 (@rising_serpent) September 8, 2021