---
"We Are In Grave Danger": Trump Says Attack On Israel A Sign World War III Is Coming
Authored by Alice Giordano via The Epoch Times (emphasis ours),
Former President Donald Trump warned that the shocking and brutal attack by Hamas terrorists on Israeli civilians over the weekend has the makings of World War III.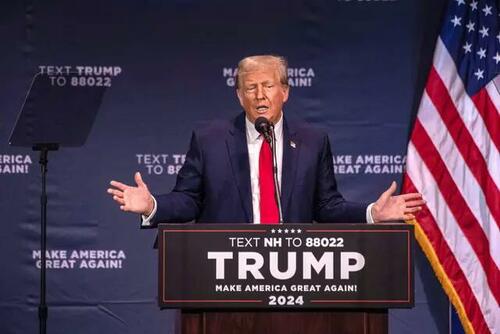 In speaking to a massive crowd on Monday in Wolfeboro, New Hampshire, Trump drew ties between the Biden administration's flooding of young male, military-aged unvetted immigrants into the country and the Pearl Harbor style-attack by Hamas.
He referred to the immigrants as "some of the same people who just attacked Israel" and said that under Biden's open border policy, the United States has allowed "tens and thousands of terrorists into our country."
"We are in grave danger of having World War III," President Trump said during his campaign stop. "This will be world obliteration. This is a real deal."
President Trump said that he "would stop World War III" if reelected. In reference to the ongoing attack by the Kremlin on Ukraine and the scenes of war in Israel and Gaza, he said neither bloodshed would ever have occurred under his command.
TRUMP: "We are in very very grave danger of having a World War III and this will be a war of obliteration… and we have a man that can't even walk off stage…" pic.twitter.com/utzjGiwTRq

— ALX 🎃 (@alx) October 9, 2023
He also brought up the massive cache of military weapons the Biden administration left behind in Afghanistan when talking about the Israel attack by Hamas, which has been designated by the United States and other countries as a terrorist organization and has ties to other terrorist groups.
Ghazi Hamas, a spokesman for Hamas, told the BBC that the group had received support from the Iranian Islamic regime in its ambush of a small farming town in Israel.
Weapons
The Council on Foreign Relations published a warning on Oct. 9 that Hamas has potential relationships with the Taliban, which seized the $7 billion worth of U.S. military equipment left behind in the Biden administration's 2021 withdrawal from Afghanistan.
President Trump and others, including Rep. Marjorie Taylor Greene (R-Ga.) along with some U.S. veterans, have speculated that video footage of the unconscionable brutality committed by Hamas terrorists against both Israelis and nationalists show American weapons being used in the attacks.
The theory remains unsubstantiated, with Democrats quickly debunking the suggestion as a radical conspiracy.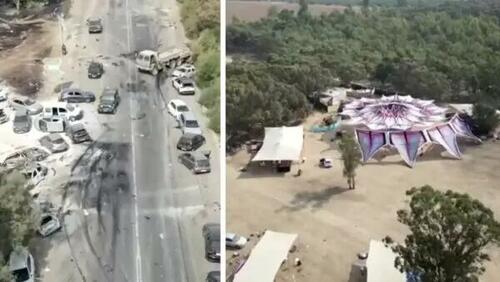 The Biden administration initially reacted to the attack with a post on X, formerly Twitter, advising Israel to stand down and not respond to the grisly ambush on Israel, which included the shooting down of at least 260 concertgoers at a music festival.
The post was quickly taken down by the U.S. State Department but not before it ignited national outrage from those with the opposing view.
In a comment on X, Sen. Ted Cruz (R-Texas) called on "every single person involved in drafting and approving the post to be immediately expelled from the U.S. government."
Len Khodorkovsky, a former deputy assistant secretary of state during the Trump administration, called the Biden administration's call for Israel to stand down "pathetic" and that it "emboldens the terrorists and endangers the civilians."
The White House has since stated that it "unequivocally condemns the attack of Hamas." Americans are among the hundreds dead or missing. Dozens are also reported to have been taken hostage by Hamas.
President Trump's appearance in New Hampshire was his third since the Israeli attacks, with two preceding ones in Iowa.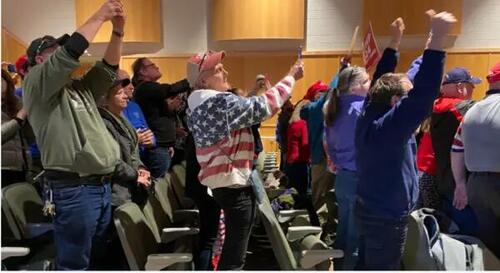 He drew so many supporters that a line of them wrapped around the Kingswood Arts Center, a large-scale state-of-theater performance center at the Kingswood Regional High School in the Lakes Region of New Hampshire.
His call to end the U.S. Department of Education to leave such policy-making to the states received an especially robust round of applause from the crowd—a proposal that has also been made by other GOP 2024 candidates including Nikki Haley, who has also received enthusiastic support.
Trump vs. Al Capone
President Trump also talked about the double standards behind his unprecedented indictments, saying he has been more of a target for prosecutors than famous career criminals. "Al Capone only got indicted once, I got indicted four times," he said.
He questioned why he got indicted for complaining about transparency and accuracy of the 2020 election results, but former U.S. secretary of state Hillary Clinton did not when she complained about the 2016 election results in the same way.
Mrs. Clinton, who lost against President Trump, called him an "illegitimate president" on national television and implied that he knows he stole the election.
The Make America Great Again (MAGA) candidate referred to those prosecuting him as a "bunch of cuckoo birds" and said he ultimately considered the indictments a "badge of honor" because it was a sign he is fighting for the future of America.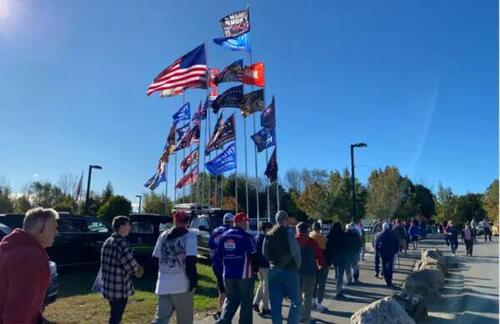 He also talked about other double standards and hypocrisies, such as the Biden administration's refusal to tap into the country's domestic oil reserve to protect marine life; instead, pushing wind turbines that are known to kill marine life. He even drew parallels between the Democrats' enthusiasm for electric cars and gender-transitioning children.
"Under a Trump administration, gasoline powered engines will be allowed but child sexual mutilation will not," he said.
Mr. Trump did not make any mention of the proposal to make him interim speaker of the House, an idea he has said publicly he would consider.
A survey released over the weekend by YouGov shows that Republican voters overwhelmingly support a future House speaker that is "loyal to Trump." According to the survey, which was conducted on behalf of CBS News, 84 percent polled called for a House speaker who would back President Trump and his policies.
Mr. Trump is seeking reelection as U.S. president on a crowded GOP ticket. He maintains a more than 50 percent lead over other candidates for the party nomination. The closest to him are former South Carolina Gov. Nikki Haley and Florida Gov. Ron DeSantis.
Loading...