---
Wedding Parties, Homeless Vets Booted From NY Hotels To Make Room For Migrants
Two soon-to-be-wed couples and 20 homeless veterans are no longer welcome at New York hotels, as their planned or in-progress stays were cancelled so the properties could be used to house migrants instead -- with a higher payoff for the hotel operators. 
The New York Post reports that a Florida couple that's originally from New York has had a wrench thrown in their June wedding plans. Deanna Mifsud and Gary Moretti's wedding party had reserved 30 rooms at the Crossroads Hotel in Newburgh, about 20 minutes from the ceremony site. Friends and relatives coming from California, Florida, Arizona, Minnesota, Connecticut, New Jersey, Long Island and Westchester were all booked, with shuttle service arranged to ferry them safely from and back to the hotel.
🚨BREAKING🚨 First bus of illegal migrants sent by #NYC arrives at the Crossroads Hotel in #NewburghNY (Orange County).

It is unclear how many are on the bus or when more are coming. pic.twitter.com/gpYa6hFDlr

— New York State Young Republicans (@NYSYR) May 11, 2023
The hotel has been in the news amid controversy over New York City's scheme to store excess migrants in suburban Orange and Rockland Counties. The Florida couple called the hotel, and were told their reservations had been trashed. The hotel told them to contact Choice Management, which operates the hotel. 
"We were on hold for 45-plus minutes and were ultimately told, 'We can't do anything for you, bye bye,' and we were hung up on," says Mifsud. Only one guest had been proactively notified of the cancellation. 
"It's complete chaos. We do not feel like they are housing the migrants out of the kindness of their heart. It's just for the money," adds Mifsud.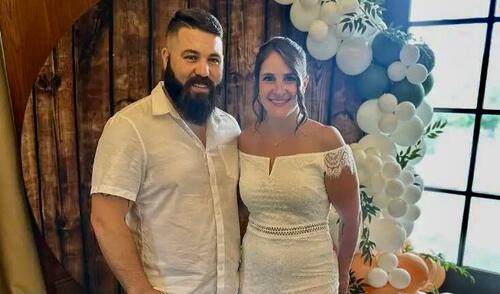 That's not a random accusation. Reports suggest that hotels involved in the migrant program are being paid rents that are a substantial premium to rates typically paid by citizens and others in the country legally.  
That includes 20 homeless U.S. military veterans who were already in suburban New York City hotels but were given the boot to make room for migrants. The vets' rooms were being covered by the Yerik Israel Toney Foundation, which was founded by a disabled military vet. Fifteen of them were staying at the same hotel as the victimized Florida engaged couple. 
The foundation had negotiated an $88 nightly rate to house the veterans, but some reports indicate New York City is paying upwards of $190 a night to house migrants. "That's so unfair, because at the end of the day, we are a small nonprofit," the foundation's Sharon Toney-Finch told the Post. 
A similar wedding nightmare struck a couple from Queens, but with even less notice. They'd reserved 37 rooms at the Crossroads Hotel for a May wedding, only to have them taken away and redistributed to the migrants. "What we feel right now is...we feel very cast aside," groom Sean Plunkett told CBS News. 
Loading...