---
UK Hits Back At EU Over 'Brexit Breach' Legal Action: Grace Period Is "Well Precedented & Common"
It's only been three months since Brexit was formally completed and now the European Union has launched legal action against the UK amid London's intentional and acknowledged delay in implementing a key part of the deal that pertains to Northern Ireland.
Britain has unilaterally sought to ease the impact of Brexit on Northern Irish businesses in contradiction of prior agreements, which EU Brexit chief Maros Sefcovic has blasted as a significant "violation of the relevant substantive provisions of the Protocol on Ireland/Northern Ireland."
Specifically the infringement proceeding would by the end refer the UK to the European Court of Justice, result in a formal reprimand for London's "breach of good faith" and crucially could lead to financial penalties or trade tariffs.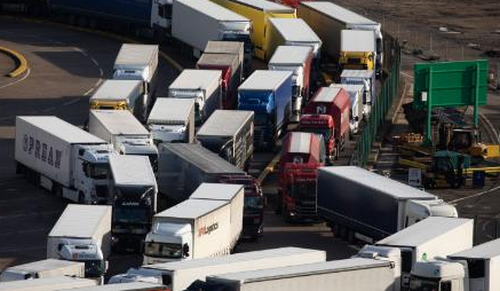 As we detailed earlier, this EU "threat" has lingered for weeks after the UK failed to implement agreed-upon checks on goods being transported to Scotland, Wales and England across the Irish Sea to Northern Ireland. The Northern Ireland Protocol was worked out in order to avoid a hard border with the Republic of Ireland by keeping Northern Ireland as part of the EU's single market for goods. 
The UK meanwhile has argued it adequately notified the European commission early last week before any public statements that it's extending a grace period merely as a "temporary" technical step in order "to provide more time for businesses such as supermarkets and parcel operators to adapt to and implement the new requirements."
London has cast it as necessary and ultimately toward a noble aim to "minimize disruption". Below is the latest official response to the EU legal action out of the UK government on Monday:
"Low key operation measures like these are well precedented and common in the early days of major international treaties. In some areas, the EU also seems to need time to implement the detail of our agreements. This is a normal process when implementing new treaties and not something that should warrant legal action.

These aspects of the Northern Ireland Protocol have only been in force for 70 days and we saw the challenges faced by supermarkets and others in the early weeks of January as a result of the Joint Committee agreement only being reached in December.

That's why it is right to provide a proper further period for them to plan ahead, particularly in the current circumstances of a global pandemic. All sides need to keep in mind the fact that the Protocol depends on cross-community consent and confidence if it is to work and deliver our common objective of protecting the Belfast (Good Friday) Agreement in all its dimensions, North-South and East-West.

We look to continue discussing the issues within the Joint Committee framework in a constructive fashion."
2/ "We've been clear that the measures we have taken are temporary, operational steps intended to minimise disruption in NI and protect the everyday lives of the people living there. They are lawful and part of a progressive and good faith implementation of the NI Protocol.

— Tony Connelly (@tconnellyRTE) March 15, 2021
As Bloomberg reviews, "Last month, the U.K. said it would temporarily waive rules set begin on April 1 that would have required firms sending food between Great Britain and Northern Ireland to provide additional customs paperwork - a move the commission warned violated the terms of the Protocol. Britain also plans similar delays in other areas, including checks on parcels."
Broadly speaking the Ireland issue and others has prompted widespread European charges of UK backsliding on previously hard fought, long negotiated agreements, seeing in London's "grace period" but an attempt to have its cake and eat it too.