---
Wellesley Students Vote To Admit Trans Men To Historic Women's College
The student body at one of the country's most prestigious women's colleges has approved a referendum urging the school to open admission to all nonbinary and transgender people --  including trans men.  
Tuesday's vote at Wellesley College in suburban Boston isn't binding. After the vote, the 2,500-student school --which counts blood-drenched foreign interventionists Hillary Clinton and Madeleine Albright among its alumnae -- declared it had "no plan to revisit its mission as a women's college or its admissions policy." 
However, the school has already bent to gender activism. Since 2015, Wellesley has offered admission to anyone "who lives as a woman and consistently identifies as a woman." That includes trans women -- biological men who call themselves women. 
That's not enough for a majority of students voting in Tuesday's referendum: They also want biological women who seek to live their lives as men to be admitted to a college for women.   
That's eyebrow-raising enough, but note the referendum also gives a green light to "all nonbinary" people. That would open Wellesley to biological men who position themselves elsewhere across the bewildering, ever-growing taxonomy of gender identities...including, for example, those who claim to have a "fluctuating gender."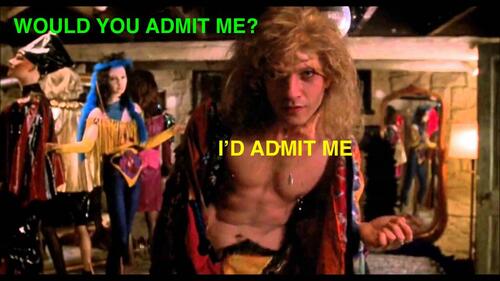 Earlier this month, Wellesley President Paula Johnson posted a message articulating the school's devotion to remaining a women's college, albeit one that approaches that definition flexibly: "Wellesley is a women's college that admits cis, trans, and nonbinary students—all who consistently identify as women."
Naturally, there was a backlash, including an ongoing sit-in in the administration building. The student newspaper published an editorial disapproving of Johnson's message, and "remind[ing] the Wellesley community that President Johnson is the spokesperson for the Board of Trustees, which must be held equally responsible for the College's transphobic rhetoric."   
I've lost the plot. Students at left-wing Wellesley, a women's college, have voted to admit trans men — who, according to identitarian orthodoxy, are fully men. What, then, is the remaining argument against just admitting students of both sexes/all gender identities? https://t.co/82FSnKBYmL

— Guy Benson (@guypbenson) March 15, 2023
Per an odd policy, the college does not publish the actual vote tallies of its referendums. However, Tuesday's result was widely expected. 
Senior student Elizabeth Um told The New York Times that while she opposed the referendum, she didn't pursue any activism against it because its passage seemed inevitable and publicly resisting it would have been "social suicide." 
Um, who's president of a Wellesley anti-abortion group, did dare to share with theTimes her exasperation over the proposal to open her women's college to women who identify as men, and men who call themselves nonbinary: 
"If you don't think you can fit in here, then you have your pick of thousands of other coed colleges...We're a women's college. That's the core identity of the school, and we can't start watering that down."
College president Johnson told the Times that students and faculty contacted her to say they feared ostracism if they went public with their opposition. "I've been personally booed at public gatherings where I've referred to Wellesley as a women's college, which it is," she said.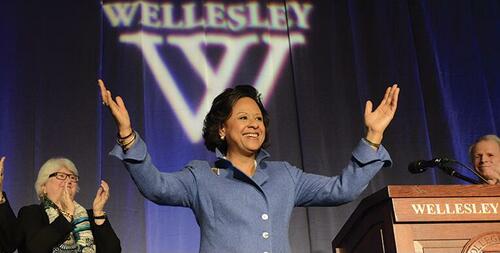 Supporters of the referendum say their proposal would be consistent with women's colleges acting as havens for those who face gender discrimination. Retired Wellesley English professor Lawrence Rosenwald told the Times that the college has always been a home for those "not in positions of power in a patriarchal society."
Founded in 1870, Wellesley bills itself as an institution for "women who will make a difference in the world."
Loading...