---
"We're Very Angry": Fire-Stricken Liberals Freak After CA 'Militia Group' Provides Disaster Aid
When the militia arrived in the small Sierra foothills town of Mariposa, California, to assist with evacuation efforts amid a fast-spreading wildfire, not all residents were pleased by the appearance of ordinary citizens dressed in military fatigues. 
Over the weekend, about 150 California State Militia 2nd Regiment members, including 20 local ones and others from surrounding counties, assisted with evacuations efforts. The group also fed dozens of displaced households. 
"We're part of the community.

"We're watching our own community burn down, and even though a lot of the members that came to help, they're spread out, we're all part of the same unit, and this is what we do," militia member Daniel Latner, who lives in Mariposa County, told The Mercury News.
As of Tuesday, the wildfire, dubbed "Oak Fire," burned 18,000 acres across Mariposa County and was only 26% contained.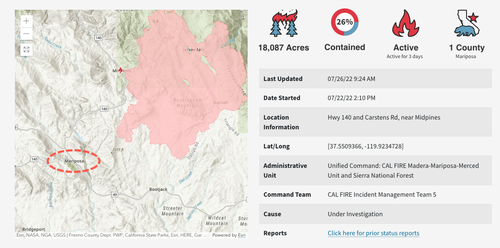 Even as Oak Fire inched closer to the town of Mariposa, destroying 55 homes and other structures, some residents weren't appreciative of militia support. 
"The last thing I'm going to do is take a free tri-tip sandwich from a right-wing extremist group," said one resident, who asked not to be named because she feared provoking "armed and dangerous" people.

"We're very angry that they would choose to come in at a time of real gravity to try to turn this into a political move," said the woman, who works remotely and accused the group of "trying to recruit people in a disaster."
The Mariposa Sheriff's Office on Sunday addressed public concerns about the militia supporting the community: 
"We had received multiple notifications inquiring why we had 'activated that militia,'" the office said in a Facebook post.

"The militia has not been activated or requested to act for any purpose by the Sheriff's Office or any agency working the Oak Fire."

"We are not unsupportive of community groups helping those affected by the Oak Fire ... they are acting on their own courteous accord," the post continued.

"We appreciate their efforts and any ... efforts of other private groups or entities helping our community."
In a county where about 40% of the people voted Democrat in the last presidential election and nearly 60% for the Republican Party, not all residents are reluctant to receive help from militia members.
It appears that liberals would rather burn, starve, or freeze than take evacuation assistance from someone on the other side of the political aisle... Tolerance and acceptance indeed
Loading...