---
What Did Nancy Know & When Did She Know It?
Authored by Julie Kelly via AmGreatness.com,
The January 6 select committee never intended to act as a truth-seeking mission but rather perform a cover-up for what actually happened...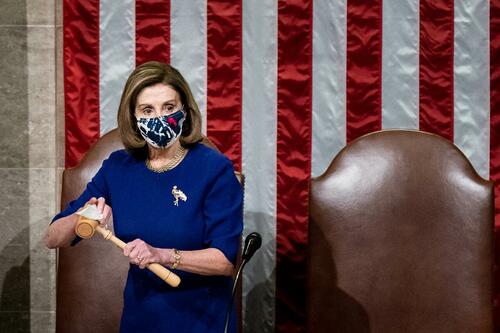 The January 6 select committee finally released its long-delayed report late on December 23 after most Americans had happily turned away from politics to enjoy the Christmas weekend with family and friends. The Friday night news dump, a common tactic when government officials want to bury something controversial, was not exactly a vote of confidence in the panel's ultimate work product.
As expected, the bulk of the 845-page document spun a well-worn tale that portrayed Donald Trump as the sole villain in a so-called "insurrection" the committee wants us to believe was engineered to keep him in the White House. Page after page included dramatic interpretations of snippets from witness testimony intended to bolster the committee's preconceived conclusions.
Analysis of how law enforcement and intelligence services failed to prepare for the "attack," a promise made by the committee in its original sell job to the public, is buried in a relatively brief appendix at the end. And despite confirmation the government was aware violence might occur—the FBI used a threat tag, "CERTUNREST2021," purportedly to categorize in advance information related to January 6—federal and local agencies did not prevent what the Biden regime branded a terror attack comparable to 9/11. (FBI Director Christopher Wray's name is not mentioned once in the report and it appears unlikely he sat for a transcribed interview.)
Even so, in the face of extensive evidence that those agencies were on high alert, committee members still faulted Trump: "Few in law enforcement predicted that the President of the United States would incite a mob attack on the Capitol, that he would send them to stop the joint session knowing they were armed and dangerous, that he would further incite them against his own vice President while the attack was underway, or that he would do nothing to stop the assault for hours," the report dishonestly stated.
Another official who escaped accountability in the report is House Speaker Nancy Pelosi (D-Calif.), the lawmaker mainly responsible for protecting Capitol grounds. Committee members avoided any criticism of Pelosi, instead allowing her to write the foreword. (It's also unclear whether committee investigators interviewed the speaker.)
For two years, Pelosi has played the role of victimized bystander in the events of January 6 rather than being recognized as the incompetent steward of public safety she is—or worse, someone who was complicit in manufacturing the entire spectacle. After all, her filmmaker daughter just happened to be on site as the historic event, one usually considered a pro forma ceremony, went down.
But a competing report also released last week by a handful of Republican House members did not let Pelosi off the hook; to the contrary, "Security Failures at the U.S. Capitol on January 6, 2021" presented new disclosures about how Pelosi's staff spent weeks ostensibly preparing for the electoral certification vote that afternoon.
"[Then] House Sergeant at Arms Paul Irving—who served on the Capitol Police Board by virtue of his position—succumbed to political pressures from the Office of Speaker Pelosi and House Democrat leadership leading up to January 6, 2021," the report authored by Representatives Jim Jordan (R-Ohio), James Banks (R-Ind.) and others revealed.

"He coordinated closely with the Speaker and her staff and left Republicans out of important discussions related to security. Irving only provided information to Republicans after receiving instruction from the Speaker's office. In one case, Irving even asked a senior Democratic staffer to 'act surprised' when he sent key information about plans for the Joint Session on January 6, 2021 to him and his Republican counterpart. The senior Democratic staffer replied: 'I'm startled.'"
(Jordan and Banks were appointed to the January 6 select committee before being bounced by Pelosi.)
According to records obtained by House Republicans, Irving maintained constant communication with two of Pelosi's top aides—Terry McCullough, her chief of staff, and Jamie Flood, a shared staffer for Pelosi and the House Administration committee—about January 6 in early December 2020. 
On December 11, 2020, McCullough emailed Irving's team to request a meeting to discuss "choreography and safety for the opening day and electoral college events." That meeting took place four days later; no Republicans were present.
Irving and his office met three more times with Democratic staffers before January 6 and once on the morning of January 6 without Republican lawmakers in attendance. Now, perhaps there's an innocent explanation as to why Irving intentionally prevented Republicans from being involved in those discussions—except for more alarming disclosures in the report.
On Monday, January 4, 2021, Irving met with Pelosi in her office. While the specific nature of the meeting isn't addressed in the report, Pelosi and her aides were furiously working on new COVID protocols to strictly limit the number of lawmakers and staff on the House floor on January 6; a letter to Congress explaining the new rules was sent out the afternoon of January 5.
But that's not all that happened on January 5. The day began with a "walkthrough" for the joint session attended by Irving, Stenger, Capitol Police, McCullough, and Democratic staffers at 8:30 a.m.. Irving scheduled another walkthrough for his staff at 1:15 p.m.. Shortly thereafter, Stenger, who reported to Senate Majority Leader Mitch McConnell (R-Ky.) conducted a separate walkthrough, apparently without inviting Republican lawmakers or staffers.
And in one of the oddest events of the day, despite repeated assurances the threat for violence was "remote," Irving led a walkthrough of Congress' evacuation plan with unnamed participants at 2:30 p.m.; almost 24 hours later to the minute, the joint session recessed and lawmakers were evacuated from the Capitol creating one of the most dramatic images of January 6.
This also happened at the same time Irving and Stenger repeatedly brushed off requests by Capitol Police Chief Steven Sund for extra protection in the form of National Guardsmen, a process both sergeants-at-arms continued to hamstring throughout January 6. (Sund later testified that Irving expressed concerns about the "optics" of guardsmen surrounding the Capitol.) The guard did not arrive until after 5 p.m., shortly after the disturbance ended.
The exchanges detailed in the House GOP report contradict the narrative that congressional security officials were unprepared for the events of January 6. So, too, does the appendix buried in the January 6 select committee document. Not only was the FBI allegedly collecting scary posts before the Capitol protest, Pelosi's underlings engaged in deep discussions and planning efforts weeks beforehand without the involvement of Republicans. What exactly those conversations entailed, the public still does not know.
Regardless, as of January 7, 2021, Irving, Stenger, and Sund were out of a job, forced to resign at the demands of irate lawmakers. Were they the fall guys in a carefully "choreographed" operation to permanently oust Trump from office and subsequently criminalize his movement? Did they willfully participate or were they duped? Why didn't the January 6 committee cover this as extensively as House Republicans?
The answer is obvious. The January 6 select committee never intended to act as a truth-seeking mission but rather perform a cover-up for what actually happened, which is becoming more obvious every day. House Republicans produced a more serious report that requires rigorous follow-up next year.
Loading...