---
What We Know About Jack Teixeira, Accused Of Involvement In Classified Documents Leak
Authored by Zachary Stieber and Jack Phillips via The Epoch Times (emphasis ours),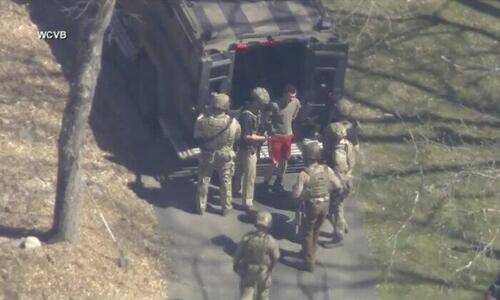 A 21-year-old has been taken into custody for allegedly being involved in the leak of secret U.S. military documents.
Jack Teixeira of the Massachusetts Air National Guard was arrested on April 13 at a home in southern Massachusetts, about 18 miles east of Providence, Rhode Island.
Here's what we know about Teixeira.
IT Specialist
After enlisting in September 2019, Teixeira became a cyber transport systems specialist, a National Guard spokesperson told The Epoch Times via email.
According to his specialty code, Teixeira was listed at the lowest skill level.
Describing cyber transport systems personnel, the Air Force website states: "A vast, global communications network is one of the many things that makes us the most powerful air force on the planet. Making sure the underlying infrastructure of this network is operating properly is the responsibility of Cyber Transport Systems specialists. Whether it's repairing a network hub at a stateside base or installing fiber-optic cable at a forward installation overseas, these experts keep our communications systems up and running and play an integral role in our continuing success."
The minimum education for a cyber transport systems role is a high school diploma or a general education diploma. Specialist requirements include knowledge of electronic and network principles; experience in the installation of voice, data, and video network infrastructure; and completion of basic military training.
Teixeira has been mobilized for federal duty under Title 10 since 2021, according to the National Guard.
Teixeira was assigned to the 102nd Intelligence Wing, which is based out of Otis Air National Guard Base.
"Our mission is to provide worldwide precision intelligence and command and control along with trained and experienced Airmen for expeditionary combat support and homeland security," the wing's website states.
Teixeira had top secret clearance and sensitive compartmented access to other highly classified programs since 2021.
Officials with the Massachusetts National Guard have not responded to requests for comment on Teixeira, who was awarded an Air Force Achievement Medal in September 2022.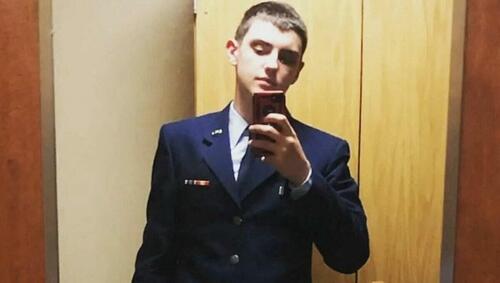 Took Documents Home
An investigation found that a person who had been posting the documents on social media initially transcribed text from the documents at work, but became concerned he would be discovered.
The person, later identified as Teixeira, "began taking the documents to his residence and photographing them," charging documents stated.
A social media user who spoke to the FBI said that the person called himself Jack, appeared to live in Massachusetts, and claimed he was in the U.S. Air National Guard.
The platform provided records to the FBI that included the billing name Jack Teixeira and a billing address for a residence in North Dighton, Massachusetts—the same home Teixeira listed as his residence in National Guard paperwork.
Discord, a social media platform on which some of the documents were posted, said it is cooperating with authorities.
As part of acquiring top secret clearance, Teixeira would have signed a lifetime, binding non-disclosure agreement that acknowledged unauthorized disclosure of secret information could result in criminal charges.
"This was a deliberate criminal act to violate those guidelines and rules," Defense Department spokesman Air Force Brig. Gen. Pat Ryder told reporters as the arrest took place.
Teixeira also held sensitive access to other classified programs.
A document posted on the social media platform was accessible to Teixeira, and U.S. government logs showed that Teixeira accessed the document in February 2023, approximately one day before a social media user placed it on the internet. That user told the FBI that Teixeira first posted it online.
Read more here...
Loading...