---
Fauci Foils Latest 'Bombshell' - "Trump Didn't Distort Anything"
Update (1445ET): Well that didn't take long. Woodward's apparent 'gotcha' moment which is now spreading in an interestingly coordinated fashion across the MSM has been out-bombshell'd by none other than Dr.Fauci (he who speaks science truth and is above reproach).
Fauci just went on Fox News and said that President Trump "did not distort anything and acted immediately when he was presented the data."
Dr. Fauci says that he never got the sense that President Trump was downplaying COVID-19:

"I didn't get any sense that he was distorting anything. In my discussions with him, they were always straightforward about the concerns that we had." pic.twitter.com/2zQ4tMZY2I

— Daily Caller (@DailyCaller) September 9, 2020
Birx and Redfield also testified the same thing under oath.
Fauci also disputed alleged quotes from him in Bob Woodward's story that President Trump is "unfocused in meetings" and that "his sole purpose is to get re-elected." 
"I don't recall that at all."
*  *  *
On February 7, two days after President Trump was acquitted by the Senate of impeachment charges, he gave a lengthy interview to veteran journalist Bob Woodward which he allowed to be taped.
Instead of talking about the impeachment, however, Woodward was 'surprised' that Trump was focused on COVID-19, the deadly virus gripping Wuhan, China while Dr. Anthony Fauci and the World Health Organization downplayed the risks.
"This is deadly stuff," Trump told Woodward, adding that the virus was possibly five times "more deadly" than the flu. Trump also told Woodward that the virus was airborne (while the World Health Organization explicitly said it was not, and maintained in January there was no human-to-human transmission).
This is the tape: 🔊pic.twitter.com/ozX8O8fVKm

— Frank Luntz (@FrankLuntz) September 9, 2020
Fauci, on the other hand, told Newsmax TV on January 21 it was no big deal:
"Obviously, you need to take it seriously and do the kind of things the (Centers for Disease Control and Prevention) and the Department of Homeland Security is doing. But this is not a major threat to the people of the United States and this is not something that the citizens of the United States right now should be worried about." -Dr Anthony Fauci, January 21
On February 17, Fauci continued to downplay the virus - saying that the risk to the US is "minuscule," and that people shouldn't wear masks.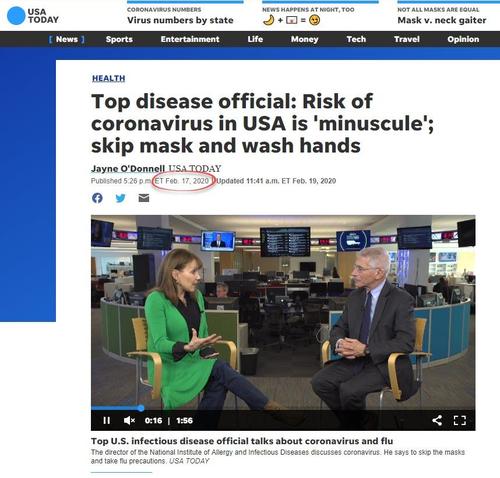 In other words, Trump was doing what Biden claims he'll do; listen to the scientists.
Yet, days before Trump's February 7 interview with Woodward, he restricted travel from China on the advice of his National Security team - for which he was called a 'xenophobe' by Joe Biden and Nancy Pelosi.
After @realDonaldTrump banned travel with China because of COVID-19, @JoeBiden bashed the ban, saying, "this is no time for Donald Trump's record of hysterical xenophobia and fear-mongering."pic.twitter.com/Pt3qsT8Meh

— Matt Margolis 🇺🇸 (@mattmargolis) September 9, 2020
Three weeks later, Pelosi invited people to come to Chinatown, without masks, to "say everything is fine here."
Pelosi, touring San Fran's Chinatown Feb. 24: "We do want to say to people, come to Chinatown, here we are … come join us" pic.twitter.com/0FEOq9t4VM

— Tom Elliott (@tomselliott) March 29, 2020
Now, Pelosi is on MSNBC claiming that Trump's "delay, distortion and denial is responsible for many of the deaths we have today."
Meanwhile, the WHO waited until March 11 to declare a pandemic.
And so, CNN's 'gotcha' is this: Trump also admitted to Woodward in a follow-up interview on March 19 that he purposefully downplayed the virus in order to avoid panic.
"I wanted to always play it down," he said, adding "I still like playing it down, because I don't want to create a panic."
CNN somehow overlooks Fauci, Pelosi and Biden downplaying the virus themselves - with the latter two calling Trump a xenophobe for his China travel restrictions. Three days later, Trump announced restrictions on travel from China, a move suggested by his national security team -- despite Trump's later claims that he alone backed the travel limitations.

Nevertheless, Trump continued to publicly downplay the danger of the virus. February was a lost month. Woodward views this as a damning missed opportunity for Trump to reset "the leadership clock" after he was told this was a "once-in-a-lifetime health emergency." -CNN
In other words - Trump took the virus seriously, restricted travel, was called a 'xenophobe' for it, and is now under attack for downplaying it in the same way his advisers, Pelosi, the WHO and others were in order to avoid public panic.
Let's see if the left's latest 'bombshell' gains traction.