---
White House 'Cautiously Optimistic' On Stimulus Deal As Pelosi, Mnuchin Prepare For 3PM Negotiation
The Trump administration says it's "cautiously optimistic" that House Speaker Nancy Pelosi might be willing to reconsider her 48-hour 'gun-to-the-head' ultimatum issued to the White House over the weekend, and come down to the $1.8 trillion proposed by Republicans.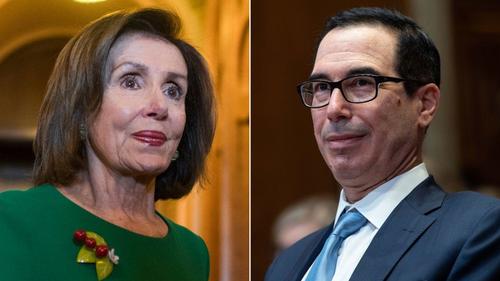 "We're feeling cautiously optimistic that she may be moving toward where we have set the bar," White House spokeswoman Alyssa Farah told Fox News on Monday, who added that Pelosi and Treasury Secretary Steven Mnuchin would discuss the matter at 3 p.m. eastern time on Monday.
According to Politico, Congressional Republicans are worried that Trump and Mnuchin will agree to a $2 trillion-plus deal, while Democrats "are wonder inf the White House even wants a deal..."
Earlier Saturday, President Trump said during a phone interview with Wisconsin TV station WMTJ that he believes he "could quickly convince" Republicans to back a "good" deal.
"If you said a trillion-eight, if you said 2 trillion, if you said 2 trillion-two -- many numbers -- I'm willing to go higher than that," said Trump, adding "I will take care of that problem in two minutes."
In other words, Trump really wants to get a deal done.
Unresolved issues include the 'child tax credit, childcare funding, census policies, unemployment benefits, and funds for states and local funding,' according to the report.
Politico's Jake Sherman writes:
WE ARE STILL SKEPTICAL they will reach a deal by Tuesday, although it's certainly not impossible. And if they do, that would mean calling the House back this week -- Thursday, Friday or, yes, Saturday. The Senate will need at least a week to process this -- if they decide to take it up at all. That pushes the schedule up against election week -- not to mention that Senate Republicans are not in favor of the outlines of this bill.
It appears the market is also skeptical...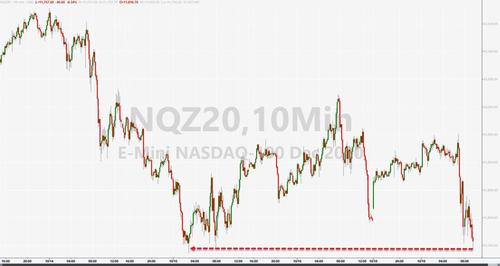 On Sunday, Pelosi gave the White House until Tuesday to come to an agreement - but will congressional GOP accept anything north of $1.8 trillion?