---
Meadows Staffers Furious He Hid COVID-19 Infection As Election Battle Raged
Update (0930ET): Once again, the MSM is latching on to the infection of a senior Trumpworld figure to highlight the president's nonchalant attitude toward the virus.
Bloomberg has dug up a recent clip of Meadows saying he has probably used more Purell "than any American here in the United States over the last 7 or 8 months.
Lots of discussion among White House aides about mysterious ways of coronavirus—@MarkMeadows was in and out of Trump's hospital room, and at numerous events/mtgs where infection possible, yet didn't catch disease until just after Election Day.

He told @CBSThisMorning Oct. 29: pic.twitter.com/Jid1yCkrgn

— Jennifer Jacobs (@JenniferJJacobs) November 7, 2020
Some of his staffers are reportedly angry that he didn't release an internal statement warning about his infection after he tested positive earlier this week, Bloomberg reports.
* * *
Update (0930ET): NYT's Maggie Haberman has just reported that the number of people infected in White House round two has climbed to 7.
And I see like usual @maggieNYT wins first place on this morning's update. https://t.co/NmFc6um3RN

— John Santucci (@Santucci) November 7, 2020
* * *
As President Trump's chances of winning Pennsylvania appeared to slip away after the strategy of leveraging the courts failed to work out, the president's chief of staff, Mark Meadows, has tested positive for COVID-19, putting him out of action at the worst possible time.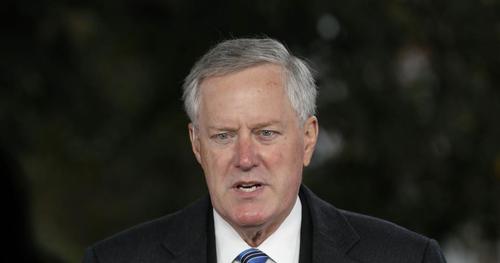 Bloomberg and a handful of media outlets broke the news, citing unnamed sources familiar with the matter.
Despite having only just recovered from the sometimes deadly virus, President Trump embarked on an intense schedule of 4 or sometimes even more rallies, meetings, interviews and events. Though Meadows is technically West Wing staff chief, and isn't really involved with the campaign, the overlap between campaign and West Wing personnel can be substantiial.
Per BBG, Meadows has remained "involved" with the campaign via the effort to challenge vote totals in certain states.
Also, at least four other White House officials have been infected recently, including Cassidy Hutchinson, one of Meadows's closest aides. Senior Trump campaign aide Nick Trainer is also presently infected, according to Bloomberg's sources.