---
White House Eases US Officials' Ability To Freely Meet With Taiwan Counterparts
On Friday the White House issued a statement on spiraling tensions with China over the Taiwan issue, saying that the US is "not looking for confrontation with China" but that it's concerned over Beijing's "potentially destabilizing" actions in the region.
The statement came after White House Press Secretary Jen Psaki was asked whether the administration believed that China is on the cusp of invading Taiwan. But in terms of avoiding "confrontation" - another announcement Friday all but ensures that confrontation is exactly what we're headed toward: the Biden admin has just opened up the ability of American officials to freely meet with their Taiwan counterparts.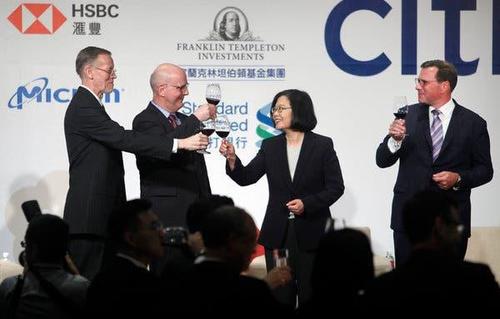 While for decades the US has maintained stringent rules and restrictions on its own diplomats and officials regarding such meetings in accord with keeping its 'One China' policy, these have now been largely lifted.
FT relates the following details in the wake of Friday's published guidelines: "US officials will be able to meet more freely with their Taiwanese counterparts under new Biden administration guidelines, the latest move by the White House aimed at checking increased aggression by Beijing in the region."
"The new rules, which are to be issued by the US state department on Friday, according to American officials, will ease decades-old restrictions that have hampered meetings between American and Taiwanese diplomats."
However, there will still be "guardrails" in place - for example regarding meeting on particular holidays in Taiwan which would be considered especially brazen, which would surely earn Beijing's rebuke of violating the One China stance. Regardless China has of late frequently leveled this charge, particularly with multiple and unprecedented US delegations that visited the island within the last 6 months of the Trump administration. And last month under Biden the US envoy to Palau become to first American ambassador to be received in Taiwan since 1979.
China sends more fighter jets into Taiwan's air defense zone as Taipei's FM Joseph Wu says his country will fight to the end if Beijing attackshttps://t.co/6OU1eE2axq

— DAILY SABAH (@DailySabah) April 7, 2021
FT continues to review: "While Biden reviewed the guidelines in recent months, there were signs he would take a looser approach than during the Obama administration. Joseph Young, the acting US ambassador to Japan, recently welcomed his Taiwanese counterpart to his Tokyo residence and publicized the visit on Twitter, echoing a similar move by Trump's ambassador to the Netherlands after Pompeo's announcement."
Beijing's reaction and imminent protest of the relaxing of the guidelines will no doubt be fierce, and could involve a continued escalation of aerial and naval incursions of Taiwan-claimed territory, also as the US "answers" these threatening moves by sending its own warships into the South China Sea.