---
White House Spox Defends Admissions Discrimination As 'Important Constitutional Right'
White House Press Secretary Karine Jean-Pierre appeared on MSNBC last week, where she took a clear stance against the recent Supreme Court decision in favor of Asian Americans who sued Harvard over racial discrimination in their affirmative action-based admissions system.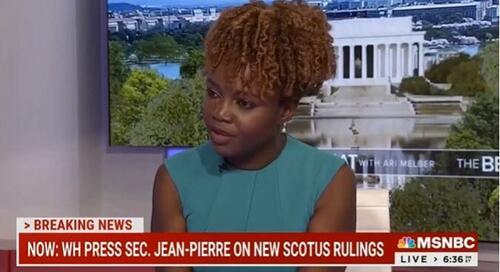 Speaking with host Ari Melber, the self-described 'historic figure' said the conservative-majority court had made "unprecedented" rulings regarding abortion, and that last week's ruling on affirmative action was again "taking away important constitutional rights that have been in place for a long time."
"Let's not forget this... the president was, when he was a Senator, he was the chair of Judiciary Committee. He is an expert on this. He understands how this works a lot of these uh you know a lot of these unprecedented decisions that this SCOTUS has made, they have been held up in the past by Republicans, by democrats, right? And so there's so much changes that have happened in the past year and it is it is you know unheard of it is really wrong what we've seen..."
Melber then asked her about preferential treatment for legacy admissions, to which KJP bizarrely pivoted to nominating 'diverse' judges.
"As I mentioned, the president takes this very seriously he's an expert at this when it comes to judges and getting judges through... as we're nominating judges and getting them through ... we've done about 136 federal judges who are diverse and represent this country and that is also important so we're going to keep that afoot make sure that we continue to focus on that."
Watch and enjoy the word salad:
Yes Karine, it's an 'important constitutional right' to keep the top performing students - who gave up a social life in High School for straight A's so they could attend America's (formerly) most prestigious institutions - from achieving their dreams.
How insane did Harvard's affirmative action policies get?

An African American student in the 40th percentile of their academic index is more likely to get it than an Asian student in the 100th percentile.

Black students in the 50th percentile are more likely to get in that… pic.twitter.com/9vvBuQXA24

— Greg Price (@greg_price11) June 29, 2023
Loading...