---
WHO Adopts European-Style COVID-19 Vaccine Passports As Part Of New Global Digital Health Certificate
Authored by Tom Ozimek via The Epoch Times (emphasis ours),
The World Health Organization (WHO) said it will take up the European Union's digital COVID-19 vaccine passport framework as part of a new global network of digital health certificates.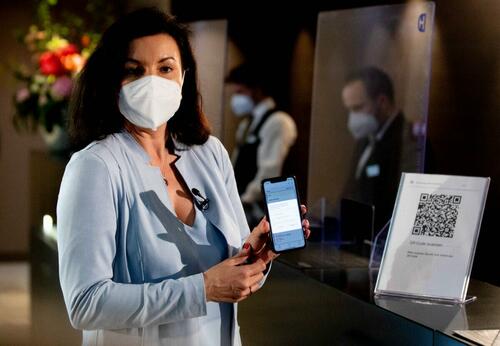 The WHO said in a June 5 statement that it had entered into a "landmark digital health partnership" with the European Commission (EC), the European Union's executive body.
As part of this new joint venture, Europe's existing framework of digital vaccine passports will serve as the first building block of a global network of digital health products.
Dubbed the Global Digital Health Certification Network, the new vaccine passport framework has already drawn criticism, with Australian senator Alex Antic saying in a statement that the move is "just another conspiracy theory coming true."
Vaccine passports—and various other forms of digital identity schemes—have been criticized as an invasion of privacy and as having the potential to enable governments and corporations to coerce human behavior by, for instance, denying access to infrastructure or services.
The WHO said in a statement that, as part of the new initiative, it will "take up the European Union (EU) system of digital COVID-19 certification to establish a global system that will help facilitate global mobility and protect citizens across the world from on-going and future health threats."
The EU's digital COVID-19 vaccine certificate entered into force in July 2021, with over 2.3 billion certificates issued.
As the pandemic has waned, the use of vaccine passports has seen limited use of late—and it has declined further since the WHO recently declared an end to COVID-19 as a global public health emergency.
While the EU Digital COVID Certificate Regulation is set to expire at the end of June 2023, the WHO sees potential in the bloc's digital vaccine passport framework for additional use cases beyond COVID-19, such as by digitizing the International Certificate of Vaccination or Prophylaxis.
Critics have denounced vaccine passports as discriminatory for facilitating denial of access to public services to the unvaccinated or paving the way for more intrusive health-based surveillance.
'Worrying Development'?
The new global vaccine passport initiative follows a December 2022 agreement signed by WHO Director-General Dr. Tedros Ghebreyesus and European Commission for Health and Food Safety Stella Kyriakides, meant to bolster EU–WHO collaboration on a wide range of digital health products.
"Today is a new chapter in global cooperation on digital health," Kyriakides said in a statement on social media.
"It will help to place WHO at the centre of our global health architecture," she added.
Ghebreyesus said in a statement that, "building on the EU's highly successful digital certification network, WHO aims to offer all WHO Member States access to an open-source digital health tool."
"New digital health products in development aim to help people everywhere receive quality health services quickly and more effectively," he added.
Read more here...
Loading...