---
Who Helped Overturn The "Pentagon Papers Principle"? The Washington Post And New York Times
Authored by Matt Taibbi via Racket News,
Last December, Michael Shellenberger reported in a #TwitterFiles thread that the Aspen Institute hosted a "Hack-and-Dump Working Group" exercise in the summer of 2020 titled, "Burisma Leak," which predicted with uncanny accuracy an upcoming derogatory story in the New York Post about Hunter Biden's lost laptop.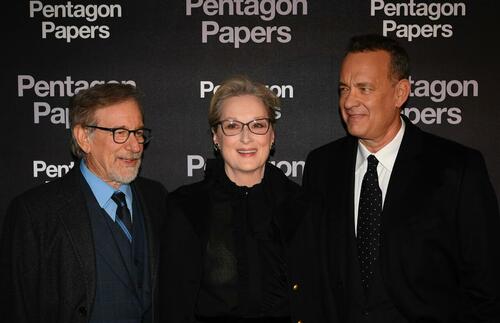 The documents Shellenberger published showed how at least five media figures, including David Sanger and David McCraw of the New York Times, Ellen Nakashima of the Washington Post, then-Daily Beast and future Rolling Stone editor Noah Schactman, and Rick Baker of CNN worked alongside Twitter and Facebook's chief moderation officers, Yoel Roth and Nathaniel Gleicher, to plan a response to a hypothetical damaging exposé about Joe Biden's son.
The "Burisma Leak" exercise predicted many elements of the real response to the New York Post's coming Hunter Biden story, including complaints from influential Democratic congressman Adam Schiff about its "source and veracity," and public statements from "former senior intelligence officials" falsely raising the specter of a "Russian operation."
Newly uncovered documents show the war-gamed, choreographed response to the New York Post piece in October, 2020 — which included temporary suppression by those tech platforms Twitter and Facebook — may have been part of a broader plan to re-think basic journalistic standards in general, beyond just the one incident. This included junking what experts involved with the tabletop exercise referred to as the "Pentagon Papers Principle," under which journalists since Daniel Ellsberg's 1971 leak had "operated under a single rule: Once information is authenticated, if it is newsworthy, publish it."
The "break" from the age-old standard was endorsed by multiple current and former figures from the Washington Post and New York Times, the two papers most associated with the publication of the Pentagon Papers. Neither of the press offices of the two papers would comment, nor did individual figures named in the #TwitterFiles leaks.
The genesis of this idea appeared to come from a paper co-authored by two Aspen tabletop attendees, both from Stanford: longtime journalist Janine Zacharia and former Obama and Trump Cybersecurity Policy Director Andrew James Grotto. Their "How to Report Responsibly on Hacks and Disinformation: 10 Guidelines and a Template for Every Newsroom" included the idea of ditching the "Pentagon Papers Principle," insisting, "authentication alone is not enough to run with something."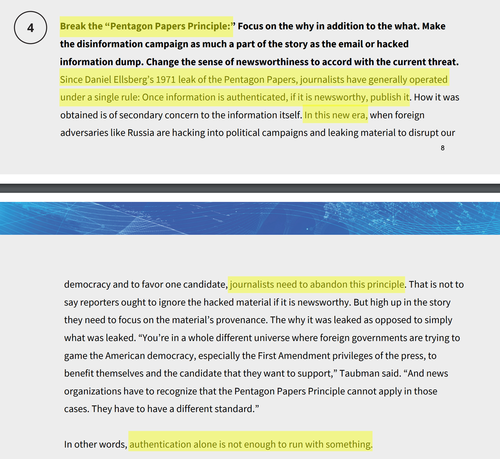 The concept seemed to provide the intellectual foundation for shelving the Post story, which otherwise presented a real conundrum for would-be censors, being neither fake news nor a Russian plant. The elaborate carve-out for dealing with such material is laid out in another newly discovered document, called "Partnership for a Healthy Digital Public Sphere: Opportunities & Challenges in Content Moderation."
This summary was sent by Aspen Digital's Executive Director and former NPR CEO Vivian Schiller to two other Aspen figures on September 15, 2020. Echoing the Stanford paper, it summarized the lessons Aspen Digital learned from examining the hack-and-dump problem, explaining the need to put "provenance front and center":

The concept theoretically represented a major shift, asking reporters to move from focusing on the what of news to why? and who from?
Subscribers to Racket News can read the rest here...
Loading...