---
Whoops! State Department Offers Counseling After "Unintentionally" Adding Pronouns To All Staff Emails
Life as a Black Mirror episode: The State Department is now offering therapy to misgendered employees after a system-wide glitch 'accidentally' added pronouns to the "from" line on employee email addresses.
The twist: pronouns were assigned at random - leading officials to offer counseling to anyone "who feels hurt or upset."
Read about it below from Steve Watson of Summit News;
The State Department has claimed that it mistakenly added mandatory pronouns to the "from" line on all the Department's emails after it was called out by an AP reporter.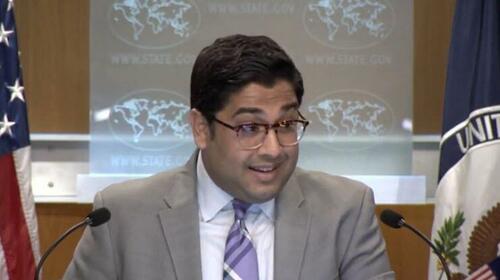 The journalist, Matt Lee, challenged Deputy State Department spokesperson Vedant Patel, demanding to know why official emails were being sent with pronouns added to them.
"Within the last hour and a half… the State Department's internal email system — and I tested this, so I know that it's true —has added pronouns to people's … not their signature … but to where it says from," Lee said, asking "Why?" 
"This is not an optional thing," Lee said, adding "the problem is that a lot of them or at least some of them so far, as I've been able to tell, are wrong! They're giving the wrong pronouns! So men are being identified as women and women as men…. It's ridiculous!" 
Patel had no knowledge of the development and couldn't provide any answers.
Watch:
WATCH: AP's Matt Lee asks Biden State Department why they've added mandatory pronouns onto the from line on State Department emails.

"This is not an optional thing. … But the problem is that a lot of them or at least some of them so far, as I've been able to tell, are wrong!… pic.twitter.com/KVnbnICrUT

— Steve Guest (@SteveGuest) May 18, 2023
Following the exchange, the State department issued a statement claiming "This change was unintentional and the bureau is working to correct this immediately."
May 18, 2023
Priceless. The Biden State Department got caught misgendering their own employees. pic.twitter.com/nuDjhrvsHi

— Steve Guest (@SteveGuest) May 18, 2023
Easy mistake to make I guess, coding an email delivery system to add pronouns itself automatically. We've all done it, right?
The State Dept. uses Microsoft Exchange. Coding entirely new fields into Exchange is not exactly trivial. They spent enormous amounts of time and effort on this debacle. https://t.co/485Usg9Rqe

— Omri Ceren (@omriceren) May 19, 2023
This comes from the same department that 'celebrates' some sort of obscure alphabet pride or pronoun day, that no one even knows exists, practically every week, has introduced 'Gender X' passports, and flies rainbow flags on the same pole as U.S. flags at embassies:
On International Day Against Homophobia, Biphobia, Interphobia, and Transphobia we call for an end to harmful conversion therapy practices, including those that attempt to change a person's sexual orientation, gender identity or expression, or sex characteristics. #IDAHOBIT pic.twitter.com/DA5XRXvb2Y

— Secretary Antony Blinken (@SecBlinken) May 17, 2023
Today on International Pronouns Day, we share why many people list pronouns on their email and social media profiles. Read more here on @ShareAmerica: https://t.co/gWhoItvGvo.

— Department of State (@StateDept) October 20, 2021
On #TransDayofVisibility, we recognize the inspiring courage of trans and non-binary people and the countless contributions they've made to communities around the world. We will continue to promote equality, inclusion, and respect for the human rights of all trans people. pic.twitter.com/GbnTmNRB6j

— Department of State (@StateDept) March 31, 2021
The State Department issues the first passport with a nonbinary gender "X" option: After a lawsuit, the Biden administration promised earlier this year that it would make the documents more inclusive for people who identify as nonbinary, intersex and… https://t.co/PtNm7TYiSJ pic.twitter.com/4LBNCE9rdb

— Marcus Evans 📚 ⚛️ 🔭 ⚖️ 💙 🎼 🏅 (@MarcuswevansSr) October 27, 2021
.@SecBlinken: Pride is about equality, respect, justice, courage, and above all, love. Read more on #PrideMonth here: https://t.co/NR5wjfKj7D. pic.twitter.com/xoid6JSkKa

— Department of State (@StateDept) June 15, 2021
Blinken authorizes US diplomatic missions to fly LGBTQ Pride flag https://t.co/K2iiTpAZq3 pic.twitter.com/BufPhlkQdg

— New York Post (@nypost) April 23, 2021
Related:
Video: Biden Director of National Intelligence Says Administration Must Focus MORE On "Diversity, Equity, And Inclusion"
Video: White House Brags About Most Staff Being Black, Female Or LGBTQ+
*  *  *
Brand new merch now available! Get it at https://www.pjwshop.com/
In the age of mass Silicon Valley censorship It is crucial that we stay in touch. We need you to sign up for our free newsletter here. Support our sponsor – Turbo Force – a supercharged boost of clean energy without the comedown.
Also, we urgently need your financial support here.
Loading...