---
"Will Of The Country": Huge Victory For Scottish Nationalists Sets Up Next Independence Clash With UK
The last hugely controversial Scottish referendum on independence took place in September 2014 and showed that the Scottish population's desire to leave its three-centuries old union with England and Wales was gaining momentum. At that time it was approaching half - with the 2014 result being 55% voting to remain with 45% in favor of independence.
It's now widely believed that if the UK allowed another vote today, that margin would be much narrower, and it looks like that showdown will now come sooner than thought after Saturday's decisive election victory by First Minister Nicola Sturgeon's Scottish National Party (SNP). Sturgeon's first declaration was aimed squarely at London and Boris Johnson, as she called another independence referendum the "will of the country".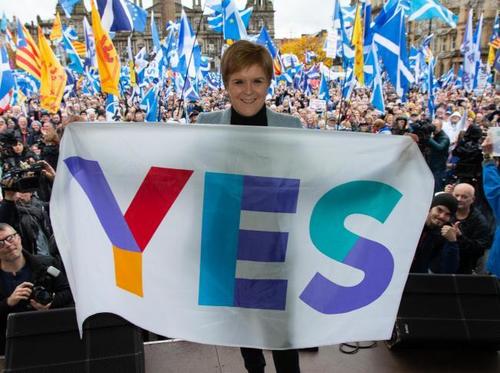 Her SNP won an unprecedented 64 seats in the Scottish Parliament, which falls just one seat short of a majority, marking a slight increase even over 2016, which ensures a legal and constitutional battle for the future of the United Kingdom will be sparked once again.
Given that the pro-independence Scottish Greens also made huge gains in what's widely considered their best performance ever, the result is a firm pro-independence majority.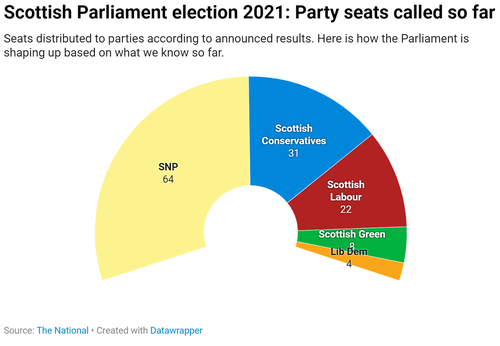 Sturgeon quickly put London on notice...
An independence referendum was pledged in the manifesto of both the SNP and the Scottish Greens, and Ms Sturgeon declared: "It is a commitment made to the people by a majority of the MSPs have been elected to our national parliament."

"It is the will of the country."

"Given that outcome, there is simply no democratic justification whatsoever for Boris Johnson or anyone else seeking to block the right of the people of Scotland to choose our future."

If the request is rejected, Ms Sturgeon said, "it will demonstrate conclusively that the UK is not a partnership of equals and that – astonishingly – Westminster no longer sees the UK as a voluntary union of nations".

She added: "That in itself would be a very powerful argument for independence."
Sturgeon further explained the vote result is a clear and urgent mandate for Scotland to push ahead with preparing for a second independence referendum to be held as soon as the COVID-19 pandemic is over. 
consistent with my assumption...
that he knows he can't stand in the way of a referendum without dishonouring the UK's democratic heritage, and taking the whole UK to a very dark place. As @GavinBarwell argues it is hard for a British PM to...

— Robert Peston (@Peston) May 8, 2021
Rabobank noted the significance of this weekend as follows:
The Scottish regional election on May 6 is potentially shaping up to have a big impact on the future of Scotland and the UK, as independence has returned to the top of the agenda. The Scottish National Party looks set to win by a considerable margin, and is then likely to claim to have gained a new mandate for a referendum. The Conservative Party, officially the Conservative and Unionist Party, will in turn continue to make the case for the union. But even when prime minister Johnson denies Scotland a second independence referendum, or employs more heavy-handed tactics to suppress 'Scoxit' sentiments, the rift between Scotland and England looks set to widen. The Scottish regional election should be viewed entirely through this prism.
In the meantime Sturgeon told her supporters that it's time to "patiently persuade our fellow citizens" of the case for an independent Scotland.