---
"The World Is Laughing At Us": U.S. Army Shares Story Of Suicidally Depressed Transgender Major
Authored by Steve Watson via Summit News,
As part of a 'Pride' celebration, The U.S. Army shared to social media the story of a transgender Major who now identifies as a woman after previously being suicidally depressed.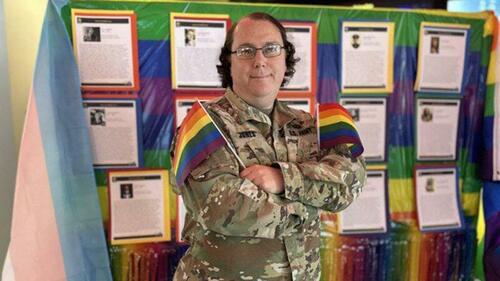 The DoD tweeted the following post linking to the story of Maj. Rachel Jones, claiming 'she' has 'embraced authenticity' and should 'inspire us all' after becoming head of the U.S. Army Sustainment Command's Cyber Division:
.@USArmy Maj. Rachel Jones found solace after coming out as a transgender female. Her journey from battling depression & suicidal thoughts to embracing authenticity inspires us all. #WhyWeServe https://t.co/9llx7skuC3

— Department of Defense 🇺🇸 (@DeptofDefense) July 2, 2023
Trans Army Major discusses LGBTQ pride and diversity in the military.

This was posted to the IG account of the U.S. Army Sustainment Command.

The world is laughing at us. pic.twitter.com/a5kzXG0dMF

— Libs of TikTok (@libsoftiktok) July 2, 2023
The US military has suicidally depressed transgender officers in leadership positions. pic.twitter.com/0oxOcaE26w

— Ian Miles Cheong (@stillgray) July 2, 2023
Caption this pic.twitter.com/gmJBPuqePq

— Libs of TikTok (@libsoftiktok) July 2, 2023
What a stunning and brave message to send to America's military enemies.
This comes on the heels of 'Admiral' Rachel Levine, The Biden administration's transgender Assistant Secretary for Health, declaring that puberty blockers and transgender surgeries are necessary to stop kids killing themselves.
Levine also decreed that Pride should now last the entire Summer, during a weird groomer type 'interview' with a trans child.
The weirdness prompted Tucker Carlson to respond, "Few Americans in our history have come as far as Rick Levine. Here's a fat guy in a Halloween costume who somehow became the federal health minister."
"What we have here is living proof that in this country, you really can be whatever you want to be," Carlson continued, adding "If Rick Levine can become 'Admiral Rachel,' why can't you be Napoleon? Or Lord Mountbatten, the last viceroy of India? Ever see that guy's uniform?"
"The point of Rick Levine's amazing transformation is not to free you from the inflexible husk that you were born in, so you can be more fully yourself, whatever you decide that is. No, that's not the point," Carlson said, adding "Rick Levine's personal journey has nothing to do with you. It's about him, it's his journey. Your fantasies about becoming something totally new and different have not been approved yet. In fact, they're weird."
"Shut up and be proud of Admiral Rachel," he continued, further noting "She's the one who has smashed glass ceilings, and you've just got some kind of weird fetish. So actually, now that we're saying this out loud, it's pretty clear that Rick Levine has no interest in liberating you from anything. This is not about liberation, it's just the opposite. It's just another religious war, same as all the others. The people who think they're God versus everybody else."
Ep. 8 Rick from Boston is telling us he wants to be known as female Admiral Rachel Levine. Accept his lie or pay the consequences, bigot. pic.twitter.com/otDl5EITYs

— Tucker Carlson (@TuckerCarlson) June 30, 2023
*  *  *
Brand new merch now available! Get it at https://www.pjwshop.com/
ALERT! In the age of mass Silicon Valley censorship It is crucial that we stay in touch.

We need you to sign up for our free newsletter here.

Support our sponsor – Turbo Force – a supercharged boost of clean energy without the comedown.

Also, we urgently need your financial support here.
Loading...