---
WTF Chart Of The Day: Bud Light Sales Dump For 6th Straight Week
New industry data, according to The Wall Street Journal, shows that sales of Bud Light have declined for another week amid the controversy over the company's decision to engage in a social media campaign with transgender influencer and activist Dylan Mulvaney.
In the week starting on May 8, U.S. retail sales tumbled 28% compared with the same period a year ago, according to an analysis of Nielsen data by consulting company Bump Williams, with the decline showing no signs of stopping...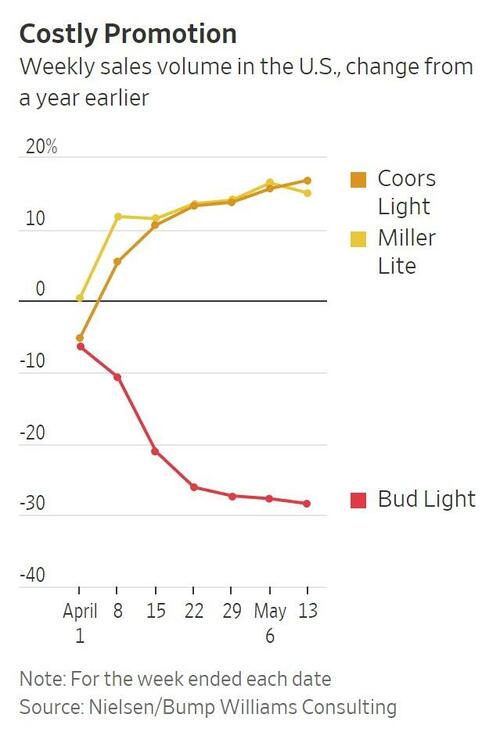 Source: The Wall Street Journal
As we have previously noted, the company placed Alissa Heinerscheid - the first woman in Bud Light's four-decade history to run its marketing - and her boss, Daniel Blake, on leave. Heinerscheid was replaced in the role of head marketer for Bud Light by a seasoned beer executive and Blake's role was eliminated to give senior marketers closer oversight on brand decisions. Heinerscheid and Blake remain on leave.
Additionally, Bud Light has reportedly responded by buying unsold cases of the beer that are past their expiration date, signaling a change in the brand's direction and an attempt to draw back to its original formula that appeals implicitly to its core customers.
"The unfortunate reality that it happened without higher-level approval exposed a concerning lack of oversight for brand marketing decisions," said in a Facebook statement.

"That lack of oversight has been addressed."
Ironically, Anheuser-Busch is getting it in both ends with The Human Rights Campaign, an LGBT rights organization, said Anheuser-Busch had showed a "profound lack of fortitude" and should have stood in solidarity with Mulvaney as people attacked her on social-media and conservative news outlets. The group this month suspended the brewer's Corporate Equality Index score, which ranks companies on their policies for lesbian, gay, bisexual, transgender and queer employees.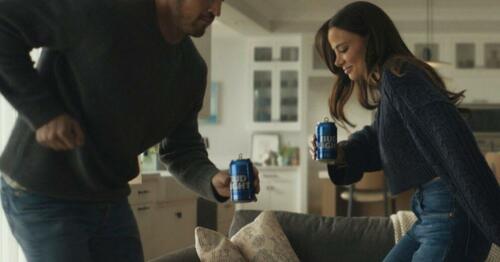 A Bud Light 2023 Super Bowl ad featured actor Miles Teller and his wife, Keleigh Sperry Teller, having an impromptu dance party in their living room.
So, should we call this a boycott... or a girlcott?
Loading...