---
Yale Cop Union Scares New Students With Grim Reaper Crime Flyers
Yale University is rushing to reassure freshman students and parents after the school's police union, which in the midst of contract negotiations, distributed flyers with stark warnings about high crime in New Haven, Connecticut -- complete with a graphic of a grim reaper. They warned incoming students to avoid walking alone and avoid public transport. Forget night life: Student should stay in their dorms and "off the streets after 8 PM."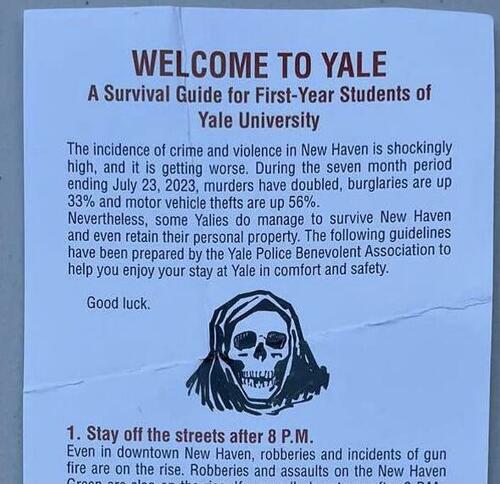 Presented by the Yale Police Benevolent Association as "A Survival Guide for First-Year Students of Yale University," the flyers were distributed on freshman move-in day. "The incidence of crime and violence in New Haven is shockingly high, and it is getting worse," the flyers warned. "During the seven month period ending July 23, 2023, murders have doubled, burglaries are up 33% and motor vehicle thefts are up 56%."
A city spokesman confirmed the numbers are accurate. However, New Haven Mayor Justin Elicker condemned the union, saying the flyers were "totally offensive" and cherry-picked data to create a "false and scary" impression. He countered that violent crime has decreased by 29.2% since 2020. However, it seems Elicker did his own cherry-picking: The New York Times notes New Haven homicides are up over that same span. 
The union is in the midst of renegotiating its contract, but its lawyer, Andrew Matthews, denied that the flyers were a negotiating tactic. "They have motor vehicles chasing each other down the streets of New Haven shooting at one another. If you or your children were to go to Yale, wouldn't you want to know that?" asked Matthews.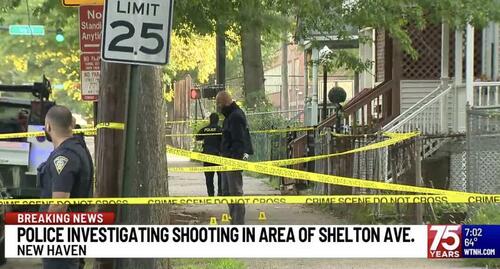 Undermining Matthews' denials about the intent, the flyers state that "the New Haven and Yale Police Departments are understaffed," and suggests the situation puts students at risk: "Do not be mislead by 'Blue Phone cameras.' They are not monitored." They warn students not to expect help after dark: "If you restrict your travel to daylight hours, police personnel are best able to provide adequate protection." 
The flyer painted a grim picture of New Haven's Union Train Station, noting that separate shootings and stabbing incidents occurred there just last month. The leaflet also says "theft has become so great a problem that Yale University is urging students to engrave identifying numbers on all property." The school is giving out free steering-wheel locks to any Yalie who owns easily-stolen Kia or Hyundai vehicles. 
Yale police chief Anthony Campbell joined the condemnation. "We do not support this and, to be quite frank, I'm really disgusted that they have chosen to take this path," he said at a press conference with the New Haven mayor. "Young people are coming to the city for the first time. That's appalling. You don't try to scare them into getting a better contract," added New Haven Police Chief Karl Jacobsen. 
While accurately describing bleak conditions in New Haven may not amount to fearmongering, the Yale union is guilty of an academic sin: plagiarism. Many passages in the flyer and the grim reaper graphic are directly copied from a notorious flyer handed out by a New York cop union in 1975.
Titled "Welcome to Fear City," the New York flyers concluded, "The best advice we can give you is this: Until things change, stay away from New York City if you possibly can." On an ostensibly cheerier note clearly not meant to be received that way, the Yale police flyer acknowledged that "some Yalies do manage to survive New Haven and even retain their personal property."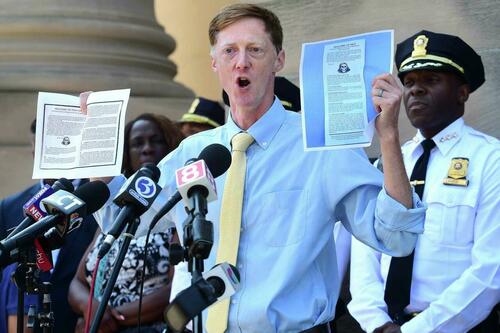 With freshmen and parents rattled by the reaper, we get to savor the spectacle of Yale University's leftist administration condemning heavy-handed labor-union tactics. The school posted a statement noting the pending negotiations and accusing the union of using "disturbing and inflammatory rhetoric...aimed at creating fear among new students and their families." Yale reprimanded the union for casting a pall over the school's move-in day, which "has always been special and memorable for students and their families."
Well, the cops certainly did their part to make it memorable. 
Loading...