---
Yates Throws "Rogue" Comey Under The Bus Over Flynn Investigation
Former Deputy Attorney General Sally Yates threw former FBI Director James 'higher loyalty' Comey under the bus on Wednesday, telling the Senate Judiciary Committee that the FBI's January, 2017 interview of former national security adviser Michael Flynn was done without her authorization - and she was upset when she found out about it.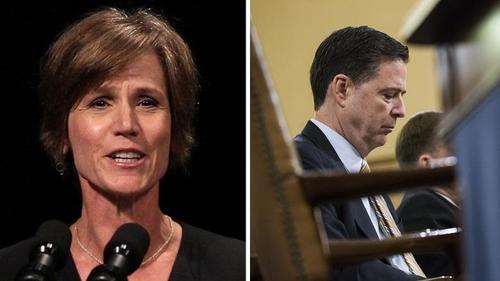 "I was upset that Director Comey didn't coordinate that with us and acted unilaterally," Yates said.
We would note that Yates wasn't too upset to warn the incoming Trump administration about Flynn just 48 hours after the FBI launched a perjury trap against him.
Committee Chairman Lindsey Graham (R-SC) asked Yates: "Did Comey go rogue?" - to which Yates replied "You could use that term, yes."
At a Senate hearing on Crossfire Hurricane, @SallyQYates said she was upset @Comey "acted unilaterally" by setting up the interview with @GenFlynn.@LindseyGrahamSC: "Did Comey go rogue?"

Sally Yates: "You could use that term, yes." pic.twitter.com/J0Hvdqapj7

— Washington Examiner (@dcexaminer) August 5, 2020
Yates said she also took issue with Comey for not telling her that Flynn's communications with then-Russian Ambassador Sergey Kislyak were being investigated and that she first learned about this from President Barack Obama during an Oval Office meeting. Yates said she was "irritated" with Comey for not telling her about this earlier.

That meeting, which took place on Jan. 5, 2017, was of great interest to Graham, who wanted to know why Obama knew about Flynn's conversations before she did. Graham and other Republicans have speculated that Obama wanted Flynn investigated for nefarious purposes. Yates claimed that this was not the case, and explained why Obama was aware of the calls at the time. -Fox News
Yates testified that Obama wanted to find out why the Kremlin suddenly backed down from threats to retaliate against sanctions over 2016 election meddling, leading to the DOJ's discovery of the communications between Flynn and the ambassador, Sergei Kislyak.
"The purpose of this meeting was for the president to find out whether – based on the calls between Ambassador Kislyak and Gen. Flynn – the transition team needed to be careful about what it was sharing with Gen. Flynn," said Yates - who suggested that the meeting was not about influencing an investigation, which she added would have "set off alarms for me."
Logan Act
Yates was also asked whether former VP Joe Biden brought up the 1799 Logal Act at a January 5 Oval Office meeting about the Flynn investigation, which prohibits American citizens from communicating with foreign governments or officials without authorization "in relation to any disputes or controversies with the United States, or to defeat the measures of the United States."
Yates said she couldn't recall if Biden mentioned it - but had a vague recollection of Comey bringing it up either at the Oval Office meeting or later.
Sen Graham: "Did [former VP Joe Biden] mention the Logan Act?"

Sally Yates: "I don't remember him saying much of anything."

Sen. Graham: "Did anybody mention the Logan Act?"

Sally Yates: "I have a vague memory of Comey mentioning the Logan Act." pic.twitter.com/h9AyrreGap

— Alex Salvi (@alexsalvinews) August 5, 2020
FISA Fiasco
Later during testimony, Yates said that she had no idea that the FISA applications to spy on the Trump campaign were riddled with false evidence - and also denied knowledge that her own deputy, Bruce Ohr, had facilitated meetings between the FBI and UK operative Christopher Steele, who assembled the infamous Clinton-funded dossier which was used to support the FISA warrant against former campaign aide Carter Page.
Yates claimed that if she knew this was the case, she wouldn't have signed off on the warrant.
Sally Yates admits that she wouldn't sign FISA warrant based on Steele Dossier again ⬇️

"No, if I had known that it contained incorrect information, I certainly wouldn't have signed it."pic.twitter.com/aqIrmwATO9

— GOP (@GOP) August 5, 2020
Meanwhile, Sen. Hawley called for a "cleaning of house" at the FBI and DOJ. 
After questioning former Deputy AG Sally Yates, Sen. Josh Hawley called for a "cleaning of house" at the FBI and Department of Justice over misleading FISA applications that led to the surveillance of Carter Page—which Yates admitted she now regrets having approved. pic.twitter.com/5V0YpQNux0

— Senator Hawley Press Office (@SenHawleyPress) August 5, 2020