---
"You're Screwing Us" - Warren Defends Plan To Cancel Student Debt After Father Confronted Her In Iowa
Authored by Zachary Stieber via The Epoch Times,
Sen. Elizabeth Warren (D-Mass.) defended her plan to pay off college loans after being confronted by a father in Iowa in an exchange that went viral.
Senator Elizabeth Warren is confronted by a father who worked double shifts to pay for his daughters education and wants to know if he will get his money back. pic.twitter.com/t2GGbAnG08

— Eddie Donovan (@EddieDonovan) January 21, 2020
The father approached Warren, a leading Democratic presidential contender, after a campaign event in Grimes.
"My daughter's getting out of school, I saved all my money, so she doesn't have any student debt. Am I going to get my money back?" the man asked Warren.

"Of course not," Warren replied.

"So, we end up paying for people who didn't save any money, then those who did the right thing get screwed," the father told her.
He then described a friend who makes more money but didn't save up while he worked double shifts to save up to pay for his daughter's college.
The father became upset, accusing Warren of laughing.
"We did the right thing and we get screwed," he added before walking off.
In an appearance on "CBS This Morning" on Friday, Warren was asked about the exchange.
Last night, a father who saved for his daughter's college education approached @SenWarren and challenged her proposed student loan forgiveness plan.@TonyDokoupil asks the senator for her response: pic.twitter.com/jLUXPqChC6

— CBS This Morning (@CBSThisMorning) January 24, 2020
"Look, we build a future going forward by making it better. By that same logic what would we have done? Not started Social Security because we didn't start it last week for you or last month for you," Warren said.
Pressed on whether she was saying "tough luck" to people like the father, she said "No." She then recounted how she got to go to college despite coming from a poor family.
"There was a $50 a semester option for me. I was able to go to college and become a public school teacher because America had invested in a $50 a semester option for me. Today that's not available," she said.
"We don't build an America by saddling our kids with debt. We build an America by saying we're going to open up those opportunities for kids to be able to get an education without getting crushed by student loan debt."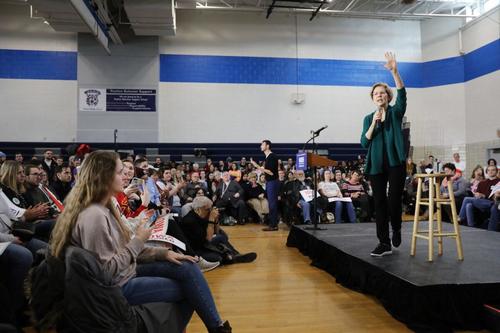 Sen. Elizabeth Warren (D-Mass.) campaigns in Des Moines, Iowa on Jan. 19, 2020. (Spencer Platt/Getty Images)
One of Warren's plans is to cancel student loans. According to her website, on her first day as president she would cancel student loan debt as well as give free tuition to public colleges and technical schools and ban for-profit colleges from getting aid from the federal government.
"I'll direct the Secretary of Education to use their authority to begin to compromise and modify federal student loans consistent with my plan to cancel up to $50,000 in debt for 95% of student loan borrowers (about 42 million people)," Warren wrote.

"I'll also direct the Secretary of Education to use every existing authority available to rein in the for-profit college industry, crack down on predatory student lending, and combat the racial disparities in our higher education system."
Sounds an awful lot like the dad above is right those that did the "right thing" are gonna get "screwed."